Since 2014, budget smartphone market in India is booming and undeniably the two key players in this market are Xiaomi and Lenovo. Both the smartphone-makers have launched several smartphones in the budget category and most of them managed to send ripples across the smartphone industry.
The scenario came true when Xiaomi and Lenovo launched their Mi 4i and A7000. Though they come across different budget segments and Xiaomi Mi 4i costs almost 50% more than Lenovo A7000, consumers are quite confused while picking among these two.
Both the smartphones feature Google's latest operating system and packs configurations, which was visible in last year's flagship devices. And as an icing on the cake, both the smartphone-makers offer them in quite a surprising price.
While Lenovo A7000 is available for Rs 8,999, Xiaomi Mi 4i is offered at Rs 12,999. Both the smartphones are available for buying exclusively through Flipkart via flash sales. Lenovo A7000 and Xiaomi Mi 4i flash sales are scheduled for every Wednesday and Thursday.
[Read More- Lenovo A7000 Review ]

Design and Build
Despite featuring comparatively smaller display, Mi 4i features better design. It inherits the similar button placement as other Mi branded smartphones, but houses a wide speaker grille and a much compact unibody design.
Taking the advantage of unibody design, Xiaomi made the Mi 4i compact and ergonomic.
This makes it look a little better than A7000, which retains the design element from Lenovo's A6000 series of smartphones.
Both the smartphones used polycarbonate material for the back and glass for the front for making them rugged in use.
[Read More- Xiaomi Mi 4i Review]
One of my friends using Android phones preferred A7000, while another one who uses an iPhone picked the Mi 4i. Both the smartphone offers appreciable built quality with decent ergonomics.
The Mi 4i measures 138.1x69.6x7.8mm and weighs 130g. By comparison Lenovo A7000 measures 152.6x76.2x8mm and weighs 140g.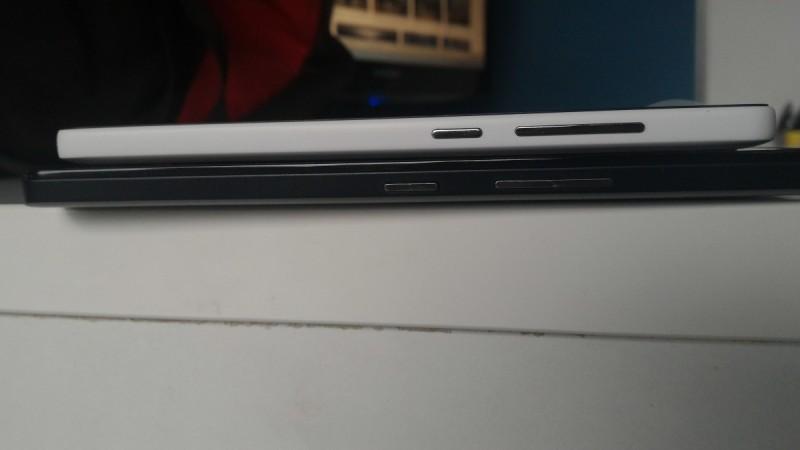 Display
Mi 4i and A7000 don't feature anything radical for the price in this segment. Xiaomi has housed a 5-inch, 1080x1920, 441PPI, IPS LCD display and Lenovo has used a 5.5-inch, 720x1280, 267PPI, IPS capacitive touchscreen.
By comparison Huawei Honor 4C, priced similar to Lenovo A7000 features 5-inch, 720x1280, 294PPI display. And Meizu M1 Note, available in similar price bracket of Xiaomi Mi 4i offers a 5.5-inch, 1,080x1,920, 403PPI IGZO capacitive touchscreen.
Comparing Mi 4i with A7000, we found both the displays have optimum colours, decent saturation and gamut levels. Texts are crisp and images appear with properly balanced colours.
On the viewing angle test, we found Mi 4i better than A7000. But a smartphone with 50% higher price is expected to deliver the same.

Performance
Mi 4i is powered by an octa-core Qualcomm Snapdragon 615 processor that combines a quad-core 1.7GHz Cortex-A53 and quad-core 1.0GHz cortex-A53 chipsets, along with an Adreno 405 GPU and 2GB RAM.
By comparison, A7000 packs a MediaTek MT6752m that combines a quad-core octa-core 1.5GHz Cortex-53 processor and a Mali-T760MP2 GPU, along with 2GB RAM memory.
Benchmarking the two phones on Antutu, GeekBench, BaseMark OS II, Vellamo and Nenamark, A7000 scored much higher than Mi 4i.
Xiaomi Mi 4i scored 34081 in Antutu, 633 single-core and 2151 multi-core in GeekBench, 285 on Basemark OS II, 1044 metal and 2062 browser on Vellamo and 59.9fps on Nenamark.
Lenovo A7000 scored 42964 in Antutu, 739 single-core and 3680 multi-core in GeekBench, 875 on Basemark OS II, 1105 metal and 2549 browser on Vellamo and 63.0fps on Nenamark.
However, with real-world use, we didn't notice a major discrepancy between both the phones unless while gaming. Both the phones offer decent experience while opening apps and web pages.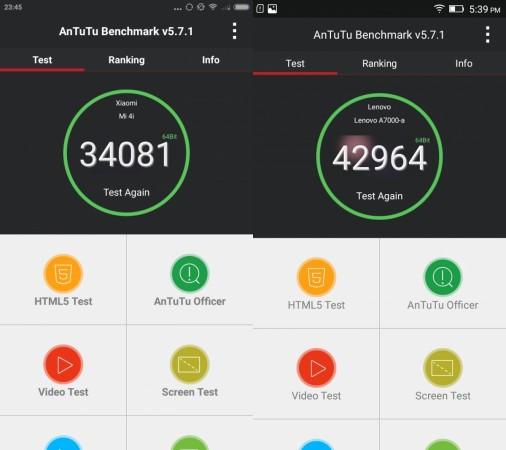 Operating System
Mi 4i runs on Android 5.0.2 Lollipop operating system overlaid with the Xiaomi's MIUI 6 skin, while A7000 runs on similar Android 5.0 Lollipop overlaid with Lenovo's custom interface Vibe UI.
Both the manufacturers are tight-lipped about the Android 5.1 update. Though the Android 5.1 doesn't offer a major overhaul over 5.0, it adds a few sensible features including security and device stability.
Moving forward to the skins, both MIUI and Vibe UI pack some additional extras. However, both of them lack the app drawer feature, which comes useful to majority of Android users.
Camera
The Lenovo A7000 packs an 8MP rear camera with Autofocus, Face Detection and Geo Tagging. Mi 4i features a 13MP rear camera with f/2.0 aperture, Manual focus, self timer and Autofocus.
Both the smartphones feature identical 5MP front camera and a dual tone LED for snapping in challenging lights.
In real world use, both the camera clicks well in ambient light, but suffer in poorly lit conditions. Both the cameras are fast while detecting the subject and don't take much time between clicking and saving the photos.
Comparing images clicked by both the smartphones in similarly lit conditions, we found A7000 slightly brightens and oversaturates the images. The trick has proven useful in the bell macro image, which is much brighter yet keeping similar details as of Mi 4i.
On the other hand, images clicked on Mi 4i are aptly balanced in colour and contrast yet retaining the details.
If megapixels were the factor to pick one among them, Xiaomi Mi 4i would be the choice, but keeping the price tag in mind, A7000 is the clear winner in this round.
Battery
Mi 4i is powered by a non-removable 3,120mAh battery, while A7000 uses a removable 2,900mAh battery.
In real world test, Mi 4i battery lasted around a day in mixed usage of keeping the phone connected to 3G+Wi-Fi, calling a few hours and keeping the social apps on.
By comparison, A7000 lasted for about a day during normal use. In our stress test, it could last for 18 hours, which is good. In our video loop test, Lenovo A7000 survived around eight hours.
However, the battery life will depend on the usage pattern, so in real life, one might get a little better or lower battery life from the device.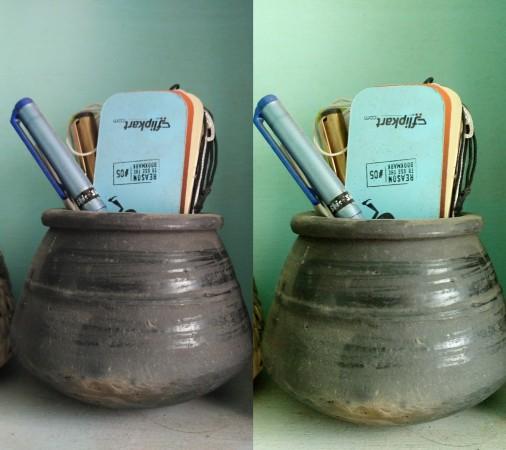 Storage
Xiaomi Mi 4i packs 16GB memory out of which 12GB is left for usage, while the Lenovo A7000 come with 8GB built-in storage. However, on the expandability factor, Lenovo A7000 beats Xiaomi Mi 4i by featuring micro SD card support up to 32GB.
Verdict
Xiaomi Mi 4i features an impressive display in a compact and well-built body, but A7000 offers better performance and offers memory expandability support.
With different price tags, Xiaomi Mi 4i and Lenovo A7000 are meant for different category of consumers.
If you prefer a bigger display and well-performing device go for Lenovo A7000, else our choice is Xiaomi Mi 4i.