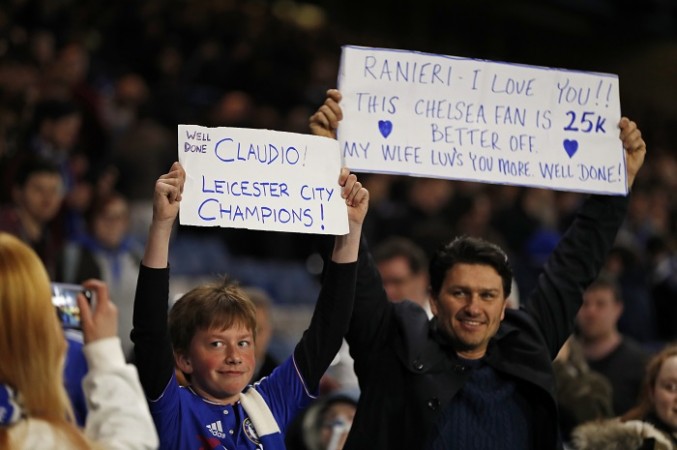 One of the greatest aspects of Leicester City winning the title for a neutral is the fact that Claudio Ranieri is the man who guided the team to this fairy tale ending. One of the nicest men you will ever see in football, Ranieri came back to English shores with plenty of scorn and ridicule, with the Italian answering his critics back in the best manner possible.
There was no reaction from the lovable Italian when the British media put him on the top of the list of managers to be sacked at the start of the season. After all, Ranieri was coming off a disastrous stint with Greece, and after Leicester only stayed in the Premier League following a remarkable run in their last nine matches, when they won seven of those, there were plenty of predictions tipping the Foxes for the drop and Ranieri for the chop.
But then, Ranieri and his remarkable Leicester team defied all odds to clinch the club's first ever top-flight title, not just since the inception of the Premier League, but since the club was founded 132 years ago.
"I'm so happy," Ranieri told the club's official website. "I'm happy for the players, for my chairman, for the staff at Leicester City, all our fans and the Leicester community. It's an amazing feeling and I'm so happy for everyone."
There was no "I knew this team had it in them to win the title" comments, so easy to make after the fact, from Ranieri, instead the Italian acknowledged that this indeed was a story nobody could have predicted, with that adage of fact being stranger than fiction landing quite aptly here.
"I never expected this when I arrived," the former Chelsea manager, who was in Italy having lunch with his 96-year-old mother before quickly flying back to England to join in the celebrations, added. "I'm a pragmatic man, I just wanted to win match after match and help my players to improve week after week. Never did I think too much about where it would take us.
"The players have been fantastic. Their focus, their determination, their spirit has made this possible. Every game they fight for each other and I love to see this in my players. They deserve to be champions."
Nobody will dispute the fact that Leicester are deserved winners. In 36 games – there are two more to go to complete this remarkable season -- Leicester have lost all of three matches; Arsenal, Manchester City and Manchester United have lost seven, ten and nine respectively. Tottenham, their closest rivals, have gone down in four, while drawing two more games than the Foxes, the latest one coming on Monday night against Chelsea, a result which handed Leicester the title.
Leicester have played entertaining football, and then a pragmatic one as that title got closer and closer and all their rivals, but Spurs, started to fall by the wayside. Even when the pressure was on, Leicester never folded, while Tottenham, with that young team of theirs, struggled to cope with the expectations.
All that eventually comes down to Ranieri, who, it must be said has had luck with a lack of injuries, with the Italian moulding a team that believed in themselves; that they could create history; that they could become the most improbable of title winners in a generation and more.
Say what you want about Ranieri and his career; show what you want to point out that he is not one among the elite; do what you may to try and prove nice guys do not finish first.
All Ranieri needs to do to counter that is point to the Premier League title of 2015-16, the ultimate proof that nice guys do finish first.