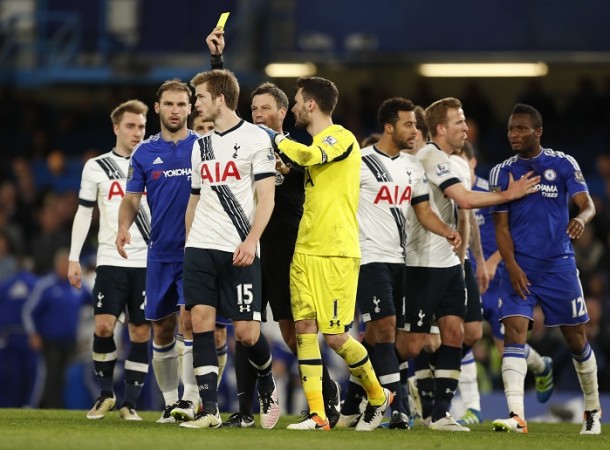 Now, the Leicester City vs Everton game on Saturday can be a party much before kickoff. There will be no late drama, no more improbable comebacks, no more ridiculous results – Leicester City are the champions of the Premier League, after Tottenham were held to a 2-2 draw by we-shall-decide-who-will-take-over-from-us Chelsea in a pulsating, ill-tempered, tempers-fraying match at Stamford Bridge.
The Chelsea camp came into this London derby promising Spurs a real match, one they would not forget too easily. But, for the first 45 minutes, it was a game that Chelsea would want to forget, as Harry Kane, of course it was him, and Son Heung-Min gave Tottenham a 2-0 lead.
Kane was calmness personified, as he took a pass from Erik Lamela, after some good work from Christian Eriksen, to expertly shift the ball around Asmir Begovic before slotting it in.
Eriksen was at the forefront again for Tottenham's second goal, with Son the benefactor and the smasher of the ball into the net.
But then, the likes of Cesc Fabregas and Eden Hazard, who had promised they would do everything to prevent Spurs from winning the title, woke up, realising the time was now to make an impact and have their say on who takes their place as the champions of England.
Willian lifted in a corner for Gary Cahill to control and smash the ball past Hugo Lloris to make it 2-1 on 58 minutes. Chelsea, full of confidence now and desperate to make some sort of impact on the Premier League title race, saw several half chances go astray before last season's player of the year – Hazard – who had come in for Pedro at halftime, found his scoring boots in some style.
Tempers took a trip to should-not-go-there after the equaliser, as the Tottenham players struggled to cope with the fact that their title dream was coming to an end. There were confrontations and altercations and more throughout the match, with Mark Clattenburg dishing out 12 yellow cards in total, nine of which went to Spurs players.
In the end, Mauricio Pochettino and his team could only walk back to the dressing room, and even that was not easy as tempers went out of control again in the tunnel, and wonder what might have been.
This Tottenham team, as long as they stay together and have the same manager, will be back for another title tilt, but this season was meant to be Leicester's, the most improbable winners of the Premier League era by some distance.