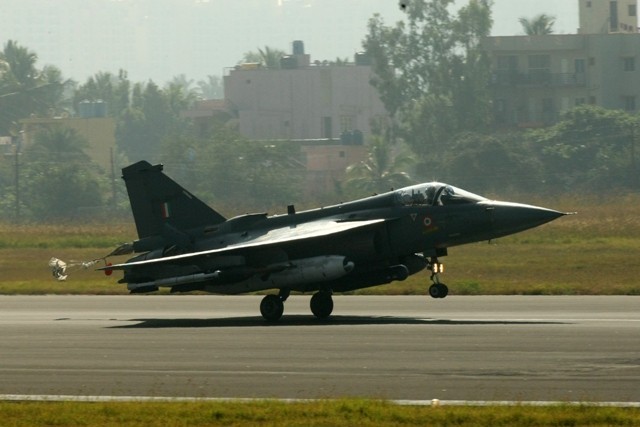 As Light Combat Aircraft (LCA) Tejas moves closer to its Final Operational Clearance (FOC), the upcoming Indian Air Force (IAF) exercise Iron Fist 2016 will witness the weapons firing skills of the indigenously developed single-engine multi-role fighter aircraft, reported OneIndia, citing sources.
The Iron Fist is IAF's biggest fire-power exercise, and will start from March 18 in Pokhran, Rajasthan. This year's exercise will feature two variants of the LCA Tejas.
The Iron Fist exercise will feature around 100 different fighter aircraft in the IAF inventory, from Mirage 2000 to Sukhoi Su-30MKI, attack helicopters and transport aircraft. The exercise will also exhibit IAF's network-centric warfare capability. President Pranab Mukherjee, Prime Minister Narendra Modi, and Defence Minister Manohar Parrikar will witness the exercise.
The report noted apart from two variants of LCa Tejas taking part in the exercise, there will be a third on stand-by.
LCA Tejas has been hogging the limelight following its participation in the Bahrain International Airshow 2016, where it showcased its aerobatic skills.
Hindustan Aeronautics Limited (HAL), the manufacturer of LCA Tejas, has been occupied with the aircraft's testing as it looks ahead to sail through the FOC stage. The aircraft recently test-fired the beyond-visual-range (BVR) Derby missile. Soon, it will test-fire the Close Combat Missile Python-5.
Reports also say the Limited Series Production (LSP-3) variant of LCA Tejas flew with a new quartz radome from Cobham in the UK. The current radar will enhance the range of the radar to 80 km and beyond.