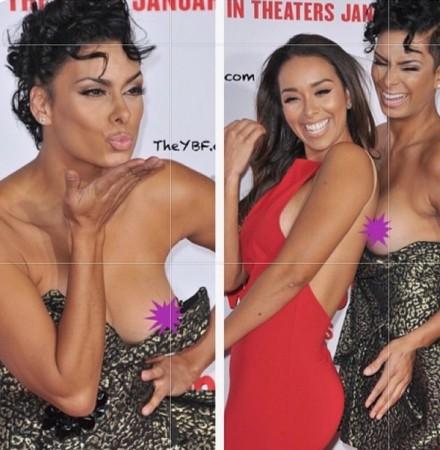 "Basketball Wives" star Laura Govan was the victim of a wardrobe malfunction on Tuesday when she accidentally flashed her nipple while attending the "Wedding Ringer" premiere in Hollywood.
Govan's breast popped out of her black and gold ensemble while posing for photographs, and the reality show star seemed unaware of the dress disaster as she kept posing for the cameras.
But when 35-year-old did realise she was flashing more than what she expected, Govan laughed it off, and later posted a message on Instagram saying, "Sh*t Happens .... #AtLeastItsANiceBoob44Babies ....#ItsAlwaysOkToLaughAtUrSelf #ThisWasCrazyMan #ICantBelieveThisHappenedToMeThoLol."
Interestingly, there are speculations the wardrobe malfunction was intentional, as many believe she couldn't have not noticed a runaway boob. The fact that she laughed off the matter has aided these talks.
The mother-of-four looked fit in the revealing number, having lost more than 85 pounds since giving birth to her fourth child in 2011.
Back in 2012, Govan spoke to Celebuzz about her weight-loss noting that she gained weight from over-doing it during her pregnancies. "I've only known the 225-pound pregnant Laura for five years," she said. "I was 117 pounds, I was tiny…[with] my first daughter six years ago I gained 100 pounds."
"It definitely came from eating," she revealed. "I was averaging about two cakes a week."
Her weight reached a tipping point during her fourth pregnancy. "I [even] had weight in my ears, I was chubby in the lobes and I said 'I can't do this anymore,'" she said. "I started working out. I had to change my mind. You just have to really not be lazy and stay dedicated."
"I took photos of me at 224 pounds, I placed them in my pantry because I'm a snacker, in my car, on my phone, in the refrigerator, on my phone, on the stove. I had to remind myself that this is where I was and this is where I want to be. I worked my a-- off."