The largest solid rocket engine ever built—P120C—is set to be test fired for the very first time. It will be tested by the European Space Agency (ESA) at Europe's Spaceport in French Guiana this weekend. This is the engine that will be placed inside the Ariane-6 rocket. It will be Europe's main launcher starting 2020.
Hot fire testing is an important milestone and if successful, the engine will gain validation as the booster of choice for Vega-C in 2019 as well as the Ariane 6 starting 2020.
This test, notes the ESA, will take place with the P120C fully loaded with "solid fuel", placed vertically in the test pod and fired up. During the hot fire test, sensors will record about 600 different metrics. The P120C is reported to be about 13.5 m long and have a 3.4 m diameter. It can hold about 142 tonnes worth of solid propellant that provides a maximum thrust of 4615 kN (in the vacuum of space) with a burn time of about 135 seconds.
It is often difficult to actually visualise how big these machines are, but rockets are among the most powerful, and massive vehicles ever built.
The engine design will serve as an upgrade to the Vega's P80 first stage motor, says the report. P120C, when ready for service will eventually replace the P80 in the Vega-C as its first stage engine. As for the Ariane 6, either two or four P120C engines will be used for lift off, says the report.
Other main components of the P120C engines like the igniter, nozzle, solid propellant, and insulated motor case, have also been tested separately before hand, says the report. Static firing test is designed to prove existing technologies and production techniques in combination. It is also a test to assess the behaviour of all components put together.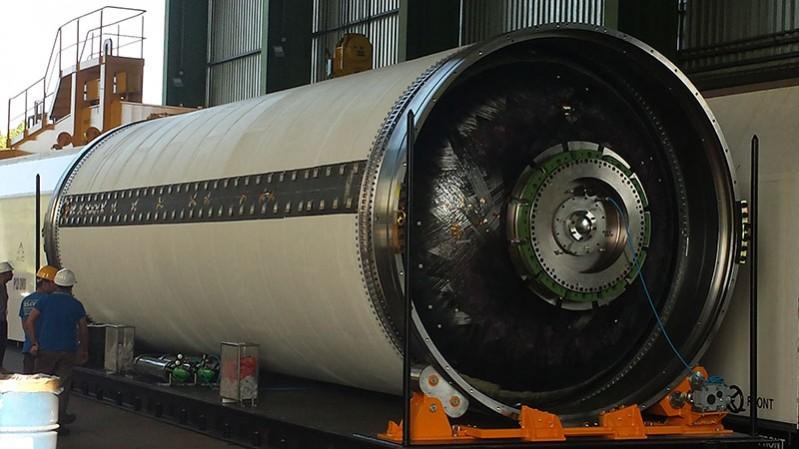 Engineers used a full scale model of the engine filled with inert propellant to verify, check and perfect procedures before hand, notes the report. It was jointly developed by the Ariane Group and Avio, modeled after the first stage of the Vega Launcher P80. Like its predecessor, the structural casing is made of carbon fibre, which is built from pre-impregnated epoxy sheets through filament winding and automatic fabric deposition.
Avio and its partners Ariane Group and Europropulsion have come up with an application that provides great economies of scale: the P120 C (Common) is an engine that can serve both as the first stage of the Vega C and as the booster of the future Ariane 6, said the company on its website.
Features of P120C at a Glance:
Motor length: 11,7 m
Diameter: 3,4 m
Propellant mass: 143,6 t
Motor dry mass: 11000 kg
Motor case mass: 8300 kg
Average thrust: 4500 kN
Specific impulse: 278,5 s
Combustion time: 132,8 s