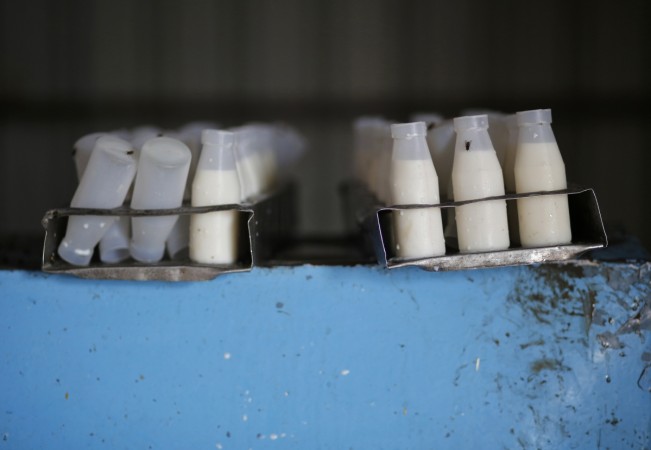 Shares of private sector dairy company Kwality spurted almost 12 percent on Wednesday on the Bombay Stock Exchange (BSE) along with those of firms engaged in similar business in response to a stock upgrade by a brokerage.
The Kwality stock rose to an intraday high of Rs 138, a gain of 11.60 percent from its previous close of Rs 123.65 and was trading at Rs 133 at around 3.22pm.
KR Choksey Shares & Securities had upgraded the stock with a target of Rs 263, listing the company's shift to sell more to retail customers as against institutional buyers who currently account for 70 percent of its revenues, according to The Financial Express. The retail segment will improve its profit margins, enabling it to post better results.
For the financial year 2015-16, retail sales contributed 32 percent to its standalone revenues of Rs 5,753 crore.
The company's six milk-processing facilities in north India have a combined capacity to process 3.4 million litres of milk per day.
Kwality sells fresh milk, curd, milk powders and related items and plans to expand its product portfolio with flavoured milk, cream, yogurts, cheese over a period of time, according to a presentation made by the company on September 16, as uploaded on the BSE website.
The company plans to embark on various initiatives to drive growth, such as:

Capacity expansion and strengthen procurement network
Initiating business transformation for B2C
Strengthen employee base across levels
Enter new markets
The company had reported 19.3 percent increase in standalone net profit at Rs 42 crore on sales of Rs 1,474 crore for the first quarter ended June 2016.
Private equity firm KKR committed to invest Rs 520 crore in Kwality to fund expansion to 9 lakh lites per day, besides debt repayment and brand building, according to the presentation.
The promoters hold 65 percent stake in the company while individuals and corporates have a 33 percent stake.