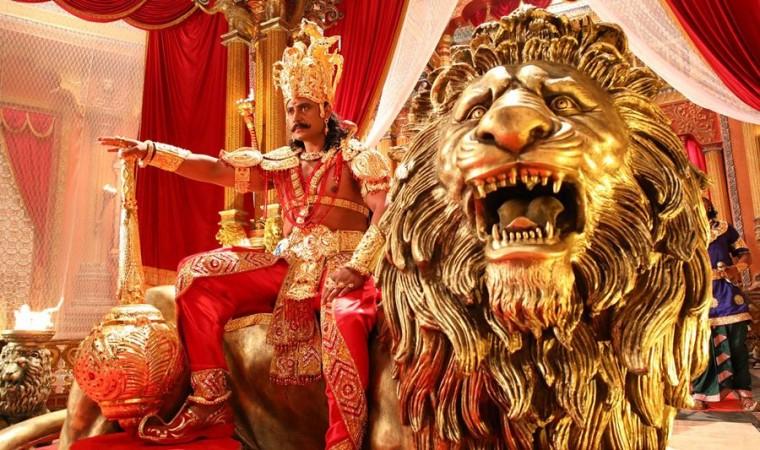 After the success of Krantiveera Sangolli Rayanna in 2012, Naganna has teamed up with Darshan Kurukshetra, a movie based on Hindu mythology the Mahabharatha. The latest film has ensemble cast that includes Arjun Sarja as Karna, late Ambareesh as Bheeshma, V Ravichandran as Lord Krishna, Sneha as Draupadi, etc.
Munirathna-produced movie has the music of V Harikrishna, Jayanan Vincent's cinematography and Jo Ni Harsha's editing. The film is simultaneously being released in Kannada and Telugu on 9 August, while it will be out in Tamil and Malayalam next week. The Hindi version is scheduled for release in September first week.
The movie was kick-started with the idea of making the mythological film in 2D format and the plans to make it in 3D was an afterthought. As per the makers, it has been shot twice, 2D as well as 3D formats. As a result, the Darshan-starrer, which was supposed to be out in 2018, has been delayed by an year.
The story of Kurukshetra is based on Ranna's epic poem Gadhayuddha. It will be narrated from the perspective of the Duryodhana played by Darshan. The sibling rivalry and the incidents leading to the bloody war in Kurukshetra is the primary focus in the film.
In short, the 18-day battle between the Kauravas and Pandavas will be the major highlight of the film.
Kurukshetra has garnered a lot of buzz as it is billed as one of the biggest movies ever made in Sandalwood. Further, Darshan has taken a break from his usual mass-masala films and opted for a challenging mythological role.
Analysis:
Darshan has come out with flying colors in the role of Duryodhana aka Suyodhana. His body language and high make it a tailor-made role for him. The first half belongs to the Challenging Star, while the second half majorly deals around the Kurukshetra battle.
Despite weak screenplay, the film becomes a one-time watch because of Darshan's performance backed with eye-pleasing visuals. Check it out in the viewers' words below:
McArthur: Kurkushetra is a waste of money,pure waste of starcast,,#dboss has become burden to kannada industry consistently making below par films,star plus serial Mahabharat was far better than this.#kurukshetra
POWERSTAR FAN: The best part of #Kurukshetra is the bond between duryodhana n karnano one can show thm as beautiful this movie has shown...hatsoff to entire Kurukshetra team
Vinay Raikar: #kurukshetra gives us the message that birth does not define one's character or greatness.
Good quality movie.
Best thing about the movie is the fresh perspective in which we see Suyodhana, Karna, Krishna, Draupadi, Bhishma, etc.
@dasadarshan shines.
Sumalatha Ambareesh: @dasadarshan proud of your journey as an actor, You excelled as Duryodhana of intensity , of pride ,of friendship & this will be one of your biggest milestones ever
cineloka.co.in: #Kurukshetra Interval.
Entire First half belongs to Challenging Star
@dasadarshan . Superb Performance
Ravishankar as Shakuni is too good.
BGM by @harimonium is apt.
3D is Good
Mayur M Bharadwaj: @dasadarshan steals the show with his screen presence
@danish_saifi10 your acting as Bheema is good
@nallanagendra deserve appreciation for Lyrics and Dialogues.. Songs and BGM by
@harimonium is apt Don't miss this opportunity to watch the epic in 3D #Kurukshetra #DBoss
Pailwaan: kurukshetra review :
It Is not just a movie! We can experience the real Mahabharata in 3D effects! And dboss acting is ultimate overall movie making, direction, story naration each and every part of movie made perfect!
my review - 4.75/5
#Kurukshetra #Kurukshethram
ನಿಮ್ಮ ಸಿನೆಮಾ: #Kurukshetra second half better with 3D.
@akarjunofficial
dominated with his fluency in playing Karna. Ravichandran could have dubbed his voice. #ambarish memorable role..delivers class act as bheeshma. Watch it in 3D.
#Kurukshetra watch it in 3D only..ultimate experience. Will not put review as it's must for all (link: http://kannadigas.it) kannadigas.it's tremendous effort and class act by everyone
@dasadarshan rules screen majestically. It's interval now and till now it's awesome fantastic. Movie richhh agide.
#Kurukshetra one word review till first half ..awesome and mind-blowing
ಕನ್ನಡ MOVIE LOVERS#KML: #KURUKSHETRA 1st half:We have no words to describe the magnum opus,treat to eyes!
Still 2nd half is not finished but we are saying it this is BEST movie in INDIAN FILM INDUSTRY with respect to graphics
Take that slipper shot #KachadaKannadigas
Rat:4.75/5 #KannadaMovieLovers
Keerthi N ಕೀರ್ತಿ ಎನ್: #Kurukshetra #kurukshetrareview
#Darshan sir steel the whole show with his energy
Nobody can give more than #Arjunsarja to match karna
#Ravichandran done wonderful job with acting but his voice match is drawback
& #Ambareesh #RaviShankar #nikhil #srinath everybody did their best
Totally everyone should thank for #MuniratnaKurukshetra #munirathna sir to produce historical movie like this.
@MunirathnaMLA
Thank you
@dasadarshan
what an acting by whole team. It's not a movie it's an experience of #Mahabharatha must watch for everyone. & Not to forgot D BOSS has his 1st 100 crore movie
Kannada industry has 2nd 100 crore now
Shreyas Prakash : One Man Army Darshan Thoogudeepa Srinivas anna at his very best and steals the whole show and a perfect one for his 50th mark. Rest of the caste are too good and Arjun Sarja again with his remarkable performance as #Karna Watching 3D will absolutely be a treat to everyone
War scenes are exceptionally good and BGM throughout the movie haunts
And this epic one should not be missed! Do rush to your nearest theatres.
#DBoss #Duryodhana