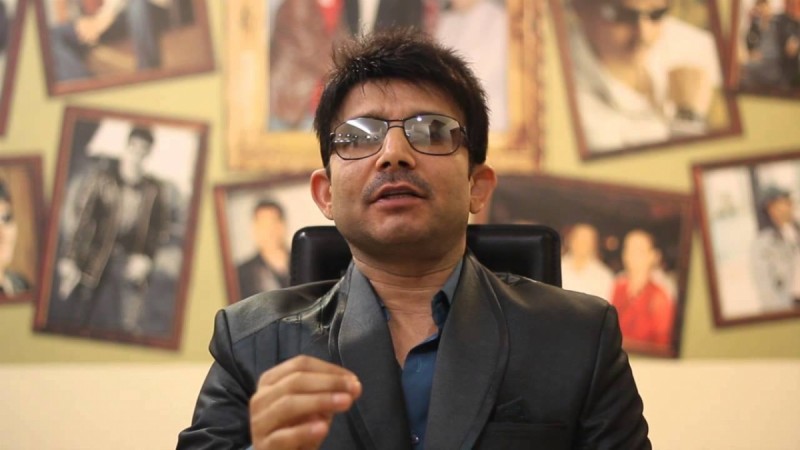 Self-proclaimed film critic Kamaal Rashid Khan aka KRK, who had issued a statement in April saying he been diagnosed with stage 3 stomach cancer, reportedly collapsed at his Dubai home on Wednesday (October 17).
The official Twitter handle of KRK box office with id @KRKBoxOffice, which had earlier informed about KRK's stomach cancer, tweeted that the Deshdrohi actor had been admitted to a hospital and was currently unconscious.
"Sad news! KRK collapsed last night at his Dubai home and admitted to Dubai hospital where he is unconscious! Please pray for him," KRK box office tweeted.
However, Twitter users were stunned when the said tweet was retweeted from KRK's new Twitter handle with id @kamaalrkhan. For the uninitiated, KRK's Twitter handle got reactivated and had received a grand welcome from Amitabh Bachchan, Abhishek Bachchan and Ram Gopal Varma among others.
People started wondering how in the world KRK managed to retweet the tweet on his health condition while he was lying unconscious in the hospital. Many reasoned that KRK must've collapsed at his home after watching Arjun Kapoor and Parineeti Chopra starrer Namaste England while some even started replying with Rest In Peace (RIP) in the comment section.
However, there were many who wished KRK a speedy recovery and prayed for his good health.
Check out the reactions.
Unconscious Mein...???? Tere post ko usne Retweet Kaise kiya be... pic.twitter.com/1uAqAJvlIr

— (☞゚ヮ゚)☞||Prabin||☜(゚ヮ゚☜) (@Myself_Prabin) October 19, 2018
He was watching #NamasteEngland before collapsing. Hope he feels better. Ppl should avoid bheja fry movies — Beats (@BeatS_786) October 19, 2018
@kamaalrkhan Distressing to note that sensitivity, sensibilities and human values have gone to toss. There might be differences of opinions with KRK, but making nasty tasteless comments concerning his health is inhuman and shameful. Wishing KRK quick recovery.

— Rajeev Sharma (@rajrra) October 19, 2018
But then he retweeted that tweet from his personal account while being unconscious?! I wish him speedy recovery if that's the truth. If he's pulling another trick to gain some attention then he's proving that he himself is 2 Rs people — Mezz Rebel (@MezzRebel) October 19, 2018
God bless him But #NamasteEngland kisne bola tha dekhne ke liye use. Mind out of control hoga hi na

— ThugsOfHindostanBrahmastra (@RanbirAamirfc) October 19, 2018
This happened coz he watched @NamasteEngFilm. @kamaalrkhan ne hum sub ke liye apni jaan khatre me daali. #Respect — Lone Wolf (@Idiotic_Fellow) October 19, 2018
Just because I dislike someone doesn't mean I cannot have compassion or empathy. I will pray for his speedy recovery. Best wishes Kamaal sir, get well soon.

— Maryam Khan (@Devoted2SRK65) October 20, 2018
RIP — ♠P 9⃣ (@kapilianJB) October 19, 2018
RIP krk

— Irfan (@YaserIqbal7) October 19, 2018
Then who took this selfie? — PC Style File (@fashionistapc) October 19, 2018