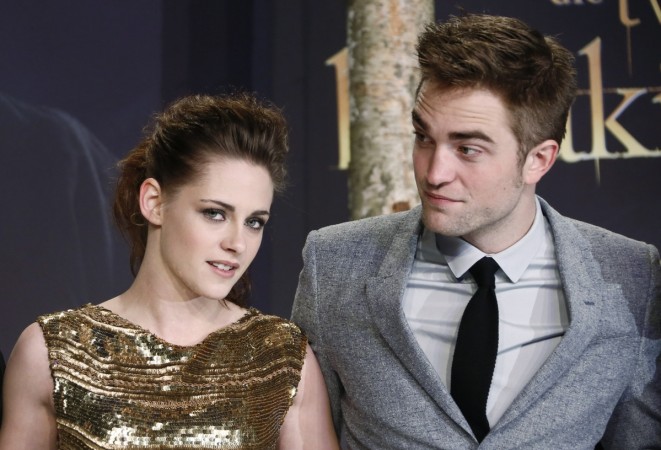 Hollywood actress Kristen Stewart, 27, recently met Mackenzie Foy, who played her daughter in The Twilight Saga: Breaking Dawn Part 2. It would have been an emotional family reunion if Robert Pattinson, who played Foy's dad in the movie, was around.
Mackenzie Foy played Renesmee Cullen, the half-vampire-half-human daughter of Edward and Bella, played by Robert Pattinson and Kristen Stewart, respectively, in 2012 film The Twilight Saga: Breaking Dawn Part 2.
Kristen Stewart bumped into Mackenzie Foy, who is now 17 and grown up, at Chanel's @welovecoco event in Los Angeles last week, according to Elle. They posed for a picture and looked good together, but it wasn't a perfect family photo as Robert Pattinson, who played Renesmee's dad in Twilight series, was missing.
Robert Pattinson missed the rare photo op as he was not at the event.
Twilight co-stars and former couple Robert Pattinson and Kristen Stewart were recently seen together at a bar in Los Angeles. It sparked off speculations on whether they were rekindling their relationship.
Hollywood Life also claimed in a report citing sources that the duo would love to see a Twilight comeback or its reboot or a TV show out of it.
It may be mentioned here that Pattinson and Stewart got into a relationship on the sets of Twilight but parted ways after reports of the latter's affair with director Rupert Sanders surfaced.
Pattinson moved on and dated singer FKA Twigs in 2014 before they got engaged a year later. But the couple called off the engagement and the actor is single again.
Meanwhile, Stewart has been dating Victoria's Secret model Stella Maxwell since 2016.