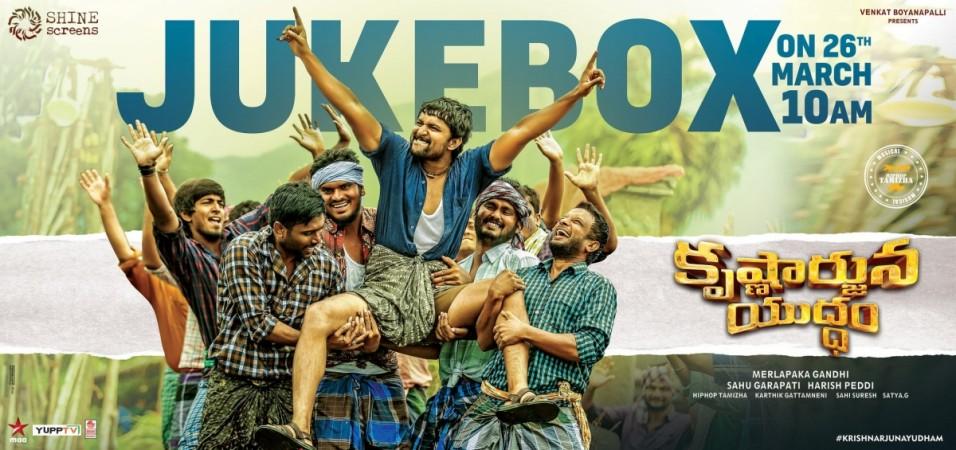 Actor Nani, who is basking in the success of his maiden production Awe, has revealed the date and venue details of the pre-release event of his upcoming movie Krishnarjuna Yuddham.
Natural Star Nani has teamed up with director Merlapaka Gandhi of Venkatadri Express and Express Raja fame for his next movie Krishnarjuna Yuddham, which is set to have a grand release April 12. The actor recently completed the shooting of the movie and its post-production work is currently underway in full swing.
The makers have released the first look and teaser of Krishnarjuna Yuddham, which have garnered a good response. Hip Hop Thamizha has composed music for the film and the response to its audio jukebox, which was released recently, has been great, with everyone talking about the tunes.
The team recently organized a press conference in Hyderabad to announce the details of the pre-release function of Krishnarjuna Yuddham. Nani told reporters there: "The audio jukebox of this film has been released into the market. The compositions by Hip Hop Thamizha will definitely remain one of the best musical renditions of my career."
The actor revealed that the pre-release function of Krishnarjuna Yuddham would be held March 31 in Tirupati. Nani said: "I would also like to announce that we have planned a grand pre-release event for the film in Tirupati on March 31. At the event, we'd be releasing the theatrical trailer of the film as well."
Talking about the director, Nani said: "I have immensely enjoyed working with director Gandhi, with whom I have wanted to work with since long. It has finally happened now and I cannot be happier. I had a lot of fun shooting for the film and I am confident that the audience will enjoy it a great deal."
Nani is seen playing a double role in Krishnarjuna Yuddham. The actor said: "This is a contemporary film where the characters Krishna and Arjun fight for a cause. Arjun is a rockstar while Krishna is a village simpleton. I personally like Krishna. The film will full-fledgedly see me speaking in the Chittoor dialect, something I have tried for the first time. I think the audience will fall in love with Krishna."
Written by Merlapaka Gandhi, Krishnarjuna Yuddham is a romantic comedy.
Nani said of it: "The movie's main motive is to entertain the audience and there was no particular motivation for the same. It is a highly energetic movie."