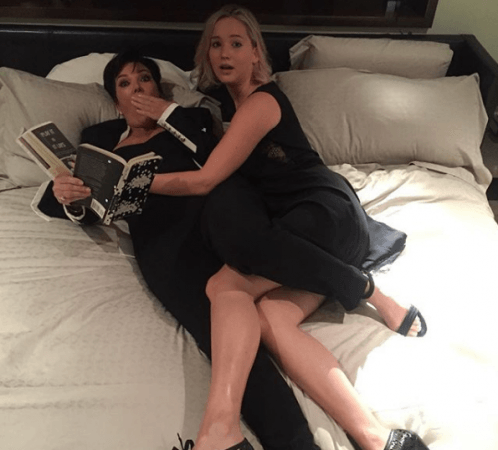 Gossip mongers refuse to let go of the hopes that Rob Kardashian and Jennifer Lawrence will date one day. For years now, there are rumors doing the rounds that the X-Men star is considering or is dating the reality show star.
Once again, the rumor has made its way to the internet after OK! Australia reported that Rob and Jennifer might be the new couple in town and there is a marriage on the cards.
The outlet reports that the Kris Jenner, who by the way is BFFs with Lawrence, is "quietly playing matchmaker" by "setting up" the actress with Rob. A source claims that the two are spending time together and are having a good time.
"After a few long phone calls and coffee dates and lunches, Jen is pleasantly surprised," the informant said adding that they are going on "coffee dates and lunches" together. Kardashian is "totally smitten" by the Oscar-winning actress.
"Jen doesn't want to date a guy with a big ego like her last two boyfriends. They're having a good time together," the tipster said. The report also suggests that marriage is on the cards for the so-called couple. "Kris would love to welcome Jen into the family," the insider claims.
Unfortunately for fans of the Kardashians and Lawrence, the report is just another false rumor, Gossip Cop confirms. Debunking the report, Lawrence's rep told the site that there is no truth in the dating claims.
Setting aside the dating rumors, Kris and Jennifer go a long way back. The two stars have shared some hilarious moments together and have let the world know a few of their crazy moments together.
Late last year, Kris revealed that there was an incident when Lawrence ended up naked in her closet. "She had some time off and I invited her over for dinner," Jenner told Steve Trevor on his show. "We started having a few cocktails and we were having so much fun," she added.
"She just took off her jeans and went for it," Jenner explained when asked how she ended up naked in the wardrobe. It happened when the actress was "22 martinis" down. On another occasion, Lawrence gifted Kris a toy Porsche when the reality star asked for a car from the brand for Christmas.
On the side note, it would be fun to see the women turn family and go crazy on Keeping Up with the Kardashians.