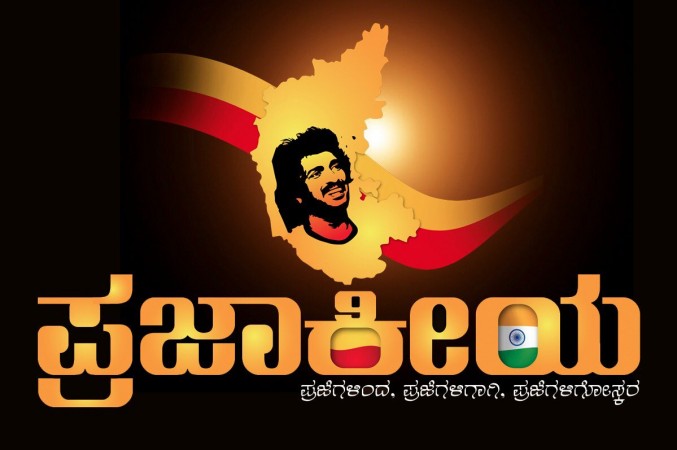 Kannada film actor Upendra, who is set to walk out of Karnataka Pragnyavantha Janatha Party (KPJP), has slammed the reports that claimed he was joining BJP. He has assured to continue with Prajaakiya.
Upendra is known to embrace revolutionary ideas in his films. When he announced his political entry by launching the KPJP in October 2017, many people across Karnataka were happy with the development.
But, in a shocking turn of events, the actor-turned-politician, fondly known as Uppi, has decided to walk out of the KPJP over the difference of opinions with his party members.
The party's general secretary, Mahesh Gowda, alleged that Upendra was behaving like a dictator. He said the actor gave all the top positions to his family members and was not allowing anyone in the selection process of MLA candidates. He selected candidates who won't get even 20 votes, he added.
But Upendra has denied all the charges made by Mahesh Gowda. Talking to TV9 Kannada, the actor said, "Everything was going smoothly and we selected around 150 people through the interview process. But some people in the party created confusion among them. I tried to sort it out, but they started avoiding me. Few other issues made me feel that I will not go well in future and decided to call it quit."
When asked about his next move, Upendra said, "I have already selected around 150 to 200 candidates for the MLA posts and all of them are going to meet me tomorrow. I can't take a decision alone because they have done a lot of work. I will announce my next move after having a discussion with them."
Soon after the news about Upendra quitting KPJP broke, it was speculated that he would join the BJP. When quizzed about it, he said, "It is a mere rumor and there is no truth in it. As I have been telling for long, I don't want Raajakiya (politics) and I am not going to leave Prajaakiya."
Upendra added, "My only wish is that Prajaakiya should come in to rule and citizens (prajegalu) should become the rulers. It will definitely happen. But sometimes, mistakes happen accidently as I have not come into this field by learning everything. I am in the process of learning. Excuse me for it!"