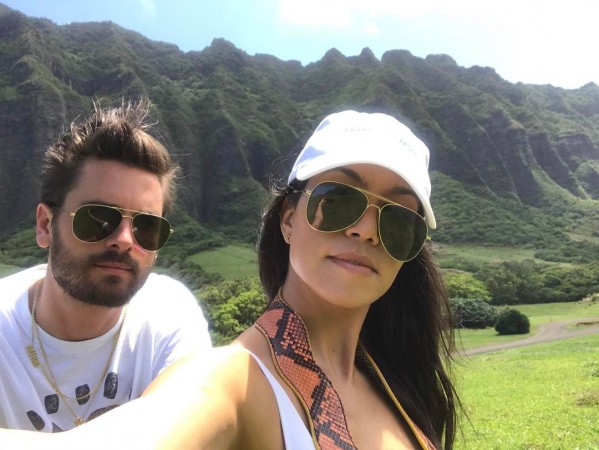 Reality star Kourtney Kardashian fears that her former partner and father of her three children, Scott Disick might be making a long-time commitment to his much-younger girlfriend, Sofia Richie before the holidays come to an end.
A source close to Kourtney has revealed to Hollywood Life that she is worried Scott might pop the question in the next couple of days. "Kourtney fears Scott may propose to Sofia over the holidays," our source said. "She'd be crushed. Kourt still has a lot of love and unresolved emotions for the father of her children so she would be disappointed if he committed to something long-term with another woman."
Although Kourtney and Scott have long ended their romantic relationship, they continue to bring up their children together and are quite close, a fact that does not go down well with Sofia.
An insider revealed to the outlet, "Sofia is very supportive and understanding of the whole co-parenting relationship between Scott and Kourtney, but, she finds their relationship odd at times."
The source further added, "Sofia has done her best to be understanding of Scott's situation and knows how much he loves his kids. But, she feels there's a big difference between being there for his children, and being there whenever Kourtney wants. She thinks that Scott has to learn to put his foot down more often with Kourtney, and make her fully aware that, other than his kids, Sofia is his priority."
Meanwhile, Kourtney has noticed how much Scott has matured in the last few years. "Kourtney has seen how much Sofia has helped Scott mature and become the man and father Kourtney always dreamed he could be," the first source went on to say. "Kourt is disappointed that she was not the one that could change Scott and that it took the love of another woman to save him from himself."
Kourtney also feels that the couple might have passed their time to get back. "Timing has always been a problem for Kourtney and Scott too," the source added. "Now that Kourtney is at last open to a reconciliation with her ex, she is afraid the upcoming holidays may create a situation where she may lose Scott forever… along with any chance they may have for more kids and a romantic ending."