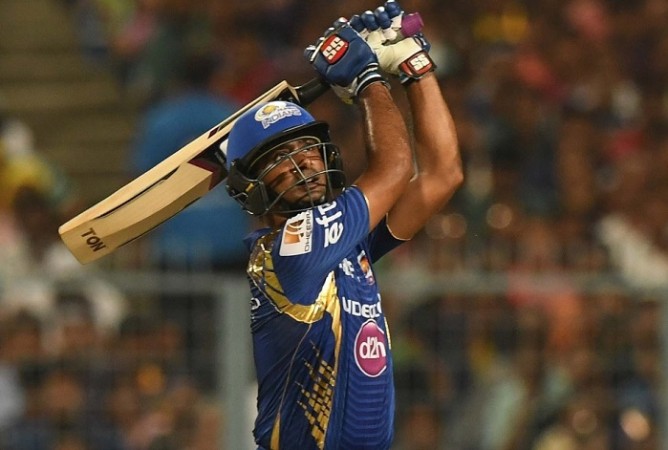 The Mumbai Indians sealed top spot in the IPL 2017 points table with a narrow win over the Kolkata Knight Riders at Eden Gardens on Saturday.
In a match that started half an hour late owing to a bit of rain, a much-changed MI posted 173/5 in their 20 overs, with Ambati Rayudu scoring a peach of a half-century.
KKR, who chose to chase, lost too many wickets too early, and while they stayed with the required run rate for much of the innings, those wickets cost them in the end.
While two more teams can join KKR on 16 points, owing to their vastly superior net run rate they are in the playoffs, even if the top-two place is not theirs anymore.
The Chris Lynn-Sunil Narine let's-hit-sixes-and-fours-every-ball combo did not quite work out this time, with Narine (0, 4b) falling off the fourth ball in a wicket-maiden opening over from Tim Southee.
Lynn and Gambhir (21, 16b, 3x4, 1x6) stuck around for 41 runs, before the KKR captain was bounced out by Mitchell Johnson, one of six MI changes for this game.
As Robin Uthappa (2, 4b) also fell, Lynn (26, 14b, 3x4, 2x6) kept going big, but the huge wicket of the Australian was taken by R Vinay Kumar, with the big man finding deep midwicket off a short ball.
Four down and a bigish score to chase, KKR needed a partnership to develop between Manish Pandey and Yusuf Pathan. Yusuf (20, 7b, 3x6), though, only looked interested in hitting sixes, and while he connected a couple, another attempt led to his dismissal.
It looked like the match was done with KKR five down, but, knowing how important a top two finish can be, the home side refused to lie down.
Colin de Grandhomme, who hasn't quite showed his batting prowess in IPL 2017, came and hit a few boundaries and with a capable batsman in Pandey at the other end, the equation was brought down to a very makeable 59 from 48 balls.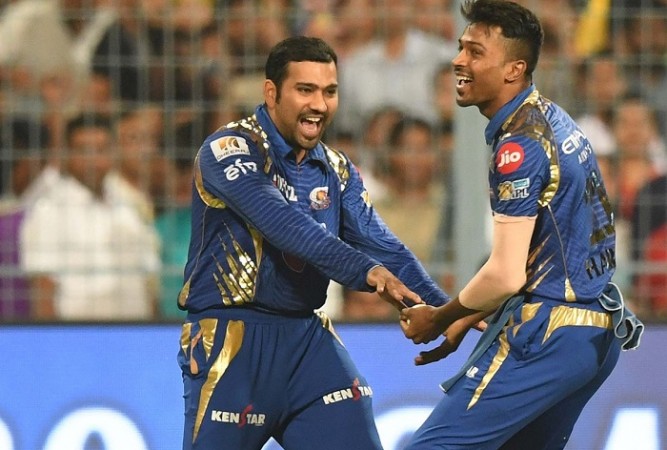 When De Grandhomme (29, 16b, 4x4, 1x6) fell off the first ball of the 15th over, KKR needed 46 from 35, but with only Pandey remaining as the recognised batsman, it was all down to the India man.
After a couple of good overs from MI, though, the equation got tougher at 39 from 24 balls, but KKR hung in there, with Pandey getting a life in the 17th over, when he was dropped at deep midwicket.
With 14 runs coming off that 17th over, KKR again looked the favourites, needing 25 from 18 balls, but, they threw that advantage away, when Pandey (33, 33b, 2x4) was caught at deep midwicket this time, by the same man who dropped the catch in the last over – J Suchith.
The equation eventually came down to 14 from the last over with just two wickets in hand for KKR, and that was just too much to ask from the tail-enders.
The Mumbai Indians innings was all about the partnership between Saurabh Tiwary and Rayudu.
After Lendl Simmons (0, 5b) fell early, Rohit (27, 21b, 4x4, 1x6) and Tiwary (52, 43b, 9x4) put on a solid partnership, but the innings only really gained the momentum it needed when Rayudu came in, took his time, before unleashing a flurry of boundaries.
Rayudu (63, 37b, 6x4, 3x6) has been unlucky to find himself out of the team due to an early season injury and the form of Nitish Rana, but the MI batsman showed just what he is capable of in this innings.
After starting slow, the right-hander took off quite brilliantly and if not for his innings, the Mumbai Indians would have finished on 150-odd and with it handed KKR an easy win.
Watch KKR vs MI IPL 2017 match highlights
KKR vs MI: IPL 2017 scorecard:
Toss: KKR, who chose to bowl.

MI: 173/5 in 20 overs.

KKR: 164/8 in 20 overs.

Result: Mumbai Indians won by 9 runs.

Bowling: KKR: Trent Boult 4-0-30-2; Colin de Grandhomme 2-0-16-0; Umesh Yadav 4-0-40-0; Sunil Narine 4-0-37-0; Kuldeep Yadav 3-0-25-1; Ankit Rajpoot 3-0-14-1.

MI: Tim Southee 4-1-39-2; Mitchell Johnson 4-0-30-1; Karn Sharma 3-0-26-1; R Vinay Kumar 3-0-31-2; Krunal Pandya 2-0-14-0; Hardik Pandya 4-0-22-2.

Fall of wickets: MI: 12/1, Lendl Simmons (2.2 overs); 69/2, Rohit Sharma (8.2 overs); 130/3, Saurabh Tiwary (16 overs); 168/4, Ambati Rayudu (18.5 overs); 170/5, Kieron Pollard (19.4 overs).

KKR: 0/1, Sunil Narine (0.4 overs); 41/2, Gautam Gambhir (4.3 overs); 53/3, Robin Uthappa (6 overs); 53/4, Chris Lynn (6.2 overs); 87/5, Yusuf Pathan (9 overs); 128/6, Colin de Grandhomme (14.1 overs); 149/7, Manish Pandey (17.1 overs); 158/8, Kuldeep Yadav (18.3 overs).