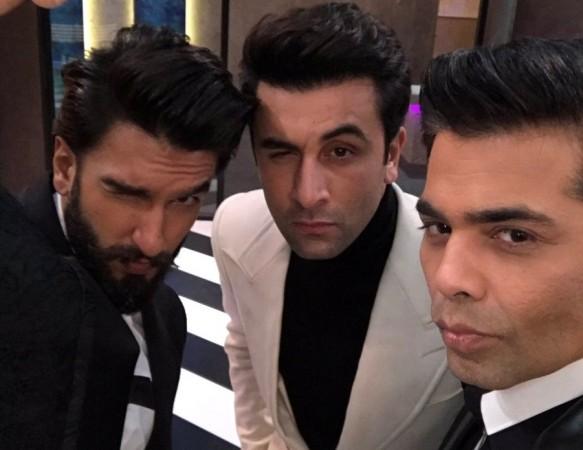 Koffee With Karan 5 is turning out to be the best season ever. After two witty episodes, starring Shah Rukh Khan-Alia Bhatt and star couple Akshay Kumar-Twinkle Khanna, the popular chat show is ready with an interesting line-up of stars, who are in no mood to give politically correct answers.
While Arjun Kapoor and Varun Dhawan have already made headlines with their scandalous answers shown in the promo clips, Ranveer Singh and Ranbir Kapoor aren't too far behind. It is already a big deal that Singh and Kapoor have agreed to share a couch on the most controversial chat show of Bollywood, what they say on the show is a bonus.
According to a SpotboyE report, Singh and Kapoor apparently imitated Katrina Kaif, the actress Kapoor was dating until they split earlier this year. Interestingly, the two stars had a few kind words for Deepika Padukone, who shares a history with Kapoor and is said to be in a relationship with Singh for over three years now.
A quick recap of the first two episodes may help in prepping oneself up for the upcoming ones:
When asked what would he be scared of the most -- a sex tape being leaked or losing his hair? Khan said people have seen Maya Memsaab, so losing hair bothers him. Bhatt revealed that she had made out when she was 16.
Meanwhile, when asked what Kumar has the Khans don't, Khanna said "a few extra inches" and before it went on to become a topic of national importance, she clarified that she meant Kumar's height. Khanna also revealed that an arrest warrant was issued on her name for unbuttoning Kumar's denims as part of a fashion show.