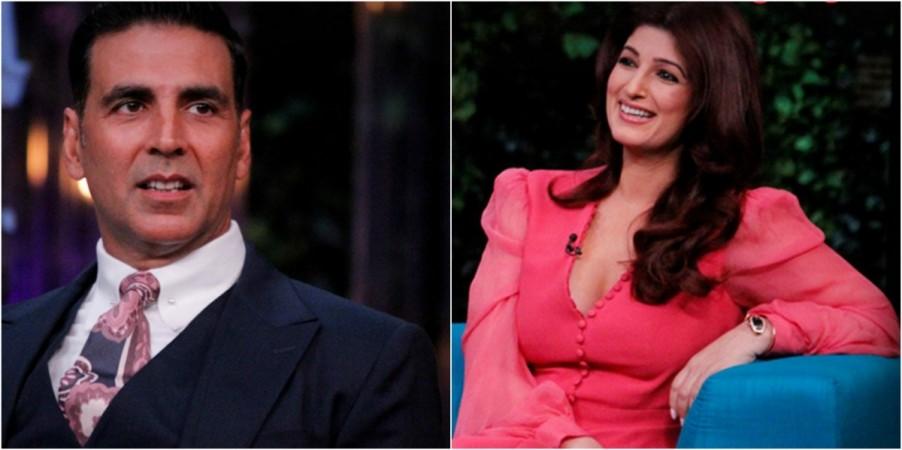 Koffee With Karan Season 5 episode 2 with Akshay Kumar and Twinkle Khanna was easily one of the best of all the seasons. While the actress-turned-writer made a good case of her no-holds-barred sense of humour, the superstar stayed quiet, occasionally giving his two cents on things that matter.
Before this, Khanna had never spoken openly about her personal life on a public platform and this was the very aspect that made the hour-long episode an interesting watch. She made some interesting revelations about her courtship with Kumar, her children and film career.
Here are the top 10 highlights of the show:
Khanna was shocked to learn that an arrest warrant was issued on her name, the day after she unbuttoned Kumar's denims as part of a fashion show. She explained how petrified she when Kumar called her up to request if she would unbutton his jeans once he hits the runway.
Khanna and Kumar's affair was meant to be a fling, but one thing led to another and they were married in a few years. She explained that she wanted a 15-day affair from Kumar, but one can never know what lies in future.
Dimple Kapadia, Khanna's mother, thought Kumar was gay and therefore asked them to live together first. The couple lived in for a year before taking the plunge.
Before tying the knot, Khanna went through Kumar's family history, trying to track the number of deaths, diseases, balding patterns and such. She also drew a pros and cons chart, which has not changed till date. At first, Kumar was angry on finding the paper, but later realised it was a more progressive way of approaching a marriage.
She promised to get married to Kumar if Mela didn't do well at the box office. The rest, as they say, is history.
Khanna and host Karan Johar were together in a boarding school located a few hundred kilometres away from Mumbai. The director would regularly cry to his friend, narrating sob stories about how he misses his mother and is eternally hungry. Tired of the everyday ritual, Khanna advised Johar to run down a steep slope, catch a train and escape from the hostel. Unfortunately, he was caught mid-way and taken back to school and shamed.
Sridevi and Akshay Kumar shot a film together — Meri Biwi Ka Jawaab Nahin — that was released without a climax scene. The romantic-drama ended with a scene where the two promise each other they would avenge the wrong done to them and later, before the end credits were rolled, a line was flashed — unhone badla liya (they took revenge).
The couple have a before bedtime ritual — they play 10 rounds of the card game rummy and now Khanna owes Kumar Rs. 4.5 lakh.
During the initial years of the courtship, Kumar had forgotten Khanna's birthday. As a last-minute arrangement, the actor got her a crystal paper weight as gift. Khanna later said she would want a ring of that size sometime in the future.
The other option for Khanna's first name was Sprinkle.