Indian top order batsman Lokesh Rahul seems to be threading a thin line in the national setup after yet another failure, while right at the opposite end of the batting order, Umesh Yadav has opened for himself a window of opportunity on the back of an excellent bowling performance.
On the second day of the second Test match between India and Windies at Hyderabad, Umesh Yadav took the three remaining Windies wickets to add to his overnight tally of three scalps, taking him to six wickets for the innings.
In reply, India started brightly, with the openers Prithvi Shaw and Rahul putting up 62 quickfire runs till the latter was dismissed for only 4. More shocking than Rahul's contribution to the partnership was his mode of dismissal as the right-hander fell yet again to an incoming delivery, dragging the ball onto the stumps.
As was pointed out by Sunil Gavaskar on commentary, this seems to have become a trend with Lokesh Rahul in recent times. In his last 12 innings, Rahul has been dismissed bowled or LBW on 11 occasions. Six of the eleven have successive failures to balls that swung into him - the latest being the first innings of the Hyderabad Test when Windies skipper, Jason Holder, got him played on.
Only last year, Rahul was scoring half-centuries for fun as he notched up nine scores between 50 and 90 in 11 innings. Out of these, seven came consecutively. Times have changed dramatically for the 26-year-old as barring the 149 he scored against England at Oval, he averages a paltry 14.9 in 2018.
The score of 149 is in itself another trend that has manifested in Rahul's performances – that of performing in dead rubbers. While it is no mean feat to score runs at the Test level, it is of little consequence to the team if it comes at a time when a series has been decided. Three of Rahul's five test centuries have come in dead rubbers.
Rahul's LBW dismissals in England resulted from trying to overcompensate for an impending outswinger as he shuffled across too much getting trapped in front in the process. Rahul's long-term coach, Samuel Jayaraj believes playing each ball on its merit with a clear mind might unlock his potential. He was quoted, "By patience, I mean the ability to not get carried away and react purely to the merit of the ball."
In test cricket, Rahul has been bowled 15 times in 50 innings and it has been mostly due to his flashy stroke play. Rahul cannot complain of lack of opportunities either as, in 2018, he has featured in as many tests as the captain, Virat Kohli. In 2018, Rahul has been dismissed seven times for single-digit scores and nine times for 10 or below. This year, he also shares the dubious record for the highest number of test ducks – 3 in 17 innings.
Jayaraj also stressed the importance of patience saying, "If you make, say, only 10 of the first 30 deliveries, you play yourself in, and can always make up later." Jayaraj's point is spot on as Rahul has often been dismissed playing extravagant shots outside his off stump in the first 25 deliveries of his innings – 24 out of 50 times to be exact. In fact, the Oval century, a rare high score in 2018, came as a result of patient batting by Rahul.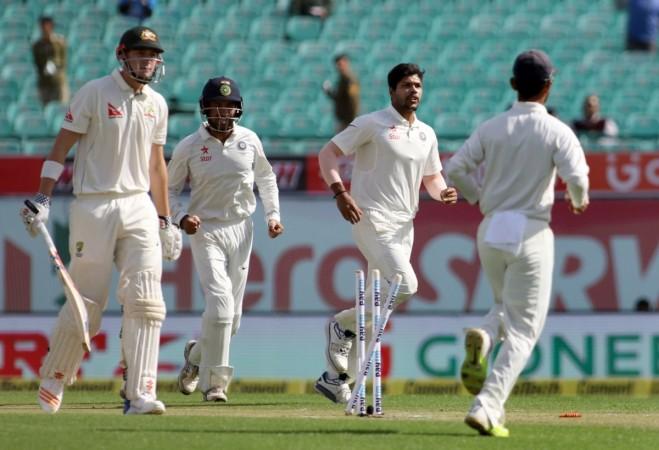 Meanwhile, Umesh Yadav has picked up his career-best figures as he finished on six wickets conceding 88 runs. His previous fifer came more than six years ago in Perth against Australia. This good performance comes at a time when Shardul Thakur walked off injured and has been virtually ruled out the test match. Thus, if Shardul doesn't get fit before the Windies ODI series, there is a very high possibility that Umesh will be recalled into the ODI fold quicker than he expected, especially given chief selector MSK Prasad's insistence on the workload management program for the fast bowlers.
Thus, it may not be surprising to see India's 2015 World Cup new ball bowling pair of Shami and Umesh steaming in during at the Caribbean batsmen later this month.