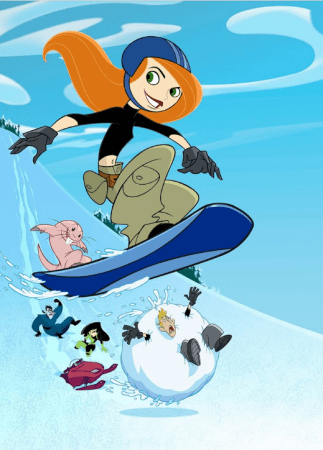 We'll call you and we'll beep you, Kim Possible. The live-action adaptation of the hit 2002 Disney animated show has just revealed their Doctor Drakken and Shego. As fans of the show will know, Doctor Drakken is Kim Possible's arch-nemesis along with her sarcastic henchwoman Shego.
Todd Stashwick and Taylor Ortega will be portraying Doctor Drakken and Shego respectively.
Entertainment Weekly has just revealed the exclusive first looks of the characters. Check out the photo below:
Speaking to ew, co-director Adam B. Stein said, "Shego is one of the funniest characters from the original show, but she's also incredibly tough."
"We had to find someone who could be hilarious and pull off the eye rolls and nail filing that Shego's known for, while still being physically threatening." Thank goodness for Ortega. "Todd's really tall," says Stein. "[In casting], Taylor was the only one who could push him around with just her presence."
Both the characters have taken subtle departures from the cartoon counterparts. Doctor Drakken, for instance, does not have blue skin, and Shego's outfit too has noticeable changes. Co-directors of the project Adam B. Stein and Zach Lipovsky chose to ground the characters in realism and make them less cartoonish.
Stein went on to say this about Shego's updated outfit, "When we looked at live-action versions of the original costume, it felt a bit like pajamas."
The original cartoon ran on the Disney channel from June 7, 2002 to September 7, 2007. The show has also spawned two animated television movies. The first animated movie, Kim Possible: A Sitch In Time, premiered on the Disney Channel in 2003 while the second one, Kim Possible Movie: So The Drama, was released in 2005 and was originally going to be the series finale, but due to popular demand the series was renewed for another season.
We can't wait for the real live adaptation of one of our favourite crime fighters, Kim Possible to finally hit our screens. 2019 can't get here fast enough.