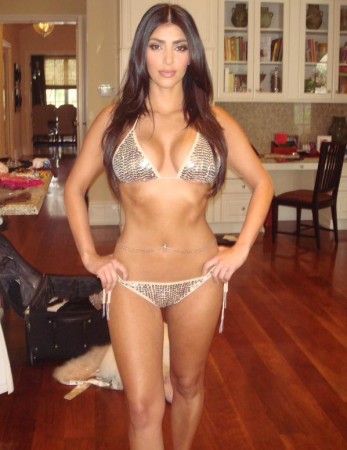 In a recent interview with Love Magazine, Kim Kardashian dared to bare herself both physically as well as metaphorically.
The model-cum-socialite always finds herself in some controversy or the other, and her recent revelations to Love Magazine's guest editor Cara Delevingne are sure to create waves as well. Apart from confessing to regularly urinating "all over my Spanx", she also opened up about her favourite sex position. "I always pee all over my Spanx, it's a disaster," Cosmopolitan quotes Kardashian as telling Cara. "They aren't crotchless enough!"
Kanye West's wife also revealed why she loves nudity so much and admitted to being enviable of her half-sister Kendall Jenner's figure.
"You always want what you can't have. I'd love to swap bodies with Kendall for just a week, just to look from that little bit higher up and fit into everything perfectly," the "Keeping Up With The Kardashians" starlet said, Daily Mail reports.
While both sisters share some resemblance due to their ever-gorgeous mother, Kris Jenner, the body shapes of the two are strikingly different. While Kim is known for her voluptuousness, Kendall is popular for her slim body.
Cara soon went on to discuss the very-controversial topic of sex with Kim. The reality star said that if she could be an animal, she would want to be a chinchilla or a seahorse. She further said that the reason she wanted to become a seahorse was she wanted to know what it was like to have sex with oneself. But, she made clear that she wouldn't want to sleep with any other woman except herself as she is not even remotely curious about it.
Kim went on to say that her favourite sex position with a man or say Kanye, is "from the back".
She said that she likes nudity and her husband encourages her to "dress sexier".
"I like nudity. Kanye always says, 'Dress sexier' - he's always the most encouraging," she added of her famous husband. Kanye admires his ladylove's style and builds up her confidence as well. Kim has been sharing pictures of her semi-bare body on the social media and a recent report stated that her fans are tired of her nudity too. However, it doesn't seem like their opinion is having any impact on Kim.