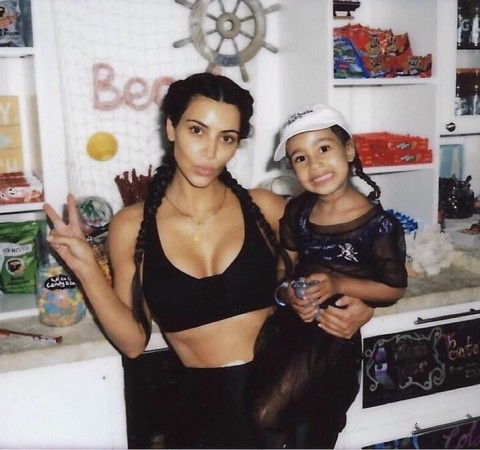 Let there be peace and calm upon the internet because Kim Kardashian has just announced the gender of her soon to be arriving, third baby. Yes, finally!
As reported previously, the 37-year-old reality TV star threw her cherry blossom themed baby shower for the third baby, over the weekend. And theme, along with the abundance of everything in pink at the venue, got people speculating if Kim was expecting a baby girl.
Also read: Catch a sneak peek at Kim Kardashian's cherry-blossom themed baby-shower!
As usual, Kim took things in her own hands and finally revealed the gender of her third child on The Ellen DeGeneres show. She and rapper husband, Kanye West, 40, are indeed expecting another girl, this time via surrogacy due to Kim's medical complications during her previous pregnancies.
In a chat with the host, Ellen, Kim shared how her eldest child aka daughter North, who is just four-years-old, has already taken to referring to the arriving baby as "Baby Sister." But Kim said, ""My daughter thinks she's tricky." Could this possibly mean slight jealousies?
The pro mommy had that sorted too. "We had a baby shower over the weekend, and I thought, 'You know, I really do want to have a baby shower because I want [North] to feel that something's coming and for her to really understand it.'," Kim admitted on the show.
She continued, "So, people brought toys and gifts and [North] was opening them all up the next day," Kardashian West explains. "And she goes, 'Mom, since Baby Sister's not here, I think I need all of her toys in my room and play with them and make sure they're all okay for Baby Sister.'"
Definitely not jealousy then. Ellen went on to ask Kim if North was excited about having another sibling, to which she said, "[She] is really excited about that," and added that the same situation post her one-year-old son, Saint birth, "was a little trickier."
Well, clearly, third time's the charm, as they say. But Kim is still struggling with a name for her baby. "At the baby shower, I was like, 'I just want everyone to write a name on a little tile and see if there is something that sticks,'" she told Ellen. "We're freaking out, we have no name."
But there's nothing to worry about because it looks like North has this department handled. "She has a toy, a llama," Kim shared. "She named it Star West. She names everything Star West."
It really does have a ring to it, considering North herself was apparently named after the North Star. But it seems to be a no from the KKW beauty mogul herself, as she said, "I'm not vibing with it."