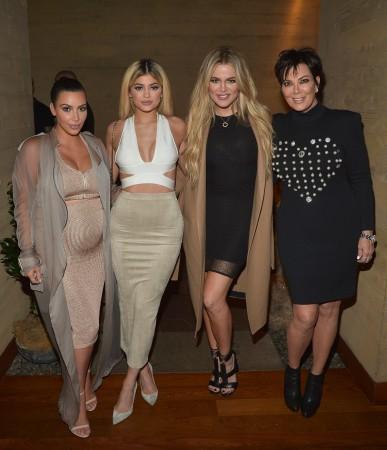 It's been a week since Kylie Jenner's rumoured pregnancy was announced by TMZ. And while fans and followers are still looking for concrete confirmation, Kim K has finally spoken up about her 20-year-old baby sis's pregnancy news.
Also read: Kim K bares it again: A wind up of her most outrageous fashion choices this month
The news of Kylie's pregnancy broke out on Saturday and multiple sources have confirmed it to People.com too, but the "absolutely thrilled" parents, Kylie and rapper beau Travis Scott, 25, are yet to make any official statement.
However, while momager Kris Jenner coyly evaded giving a direct answer on the topic and Caitlyn Jenner revealed that the news had come as quite a shock to her, the confirmation is still dubious. Kris claimed that there has been no confirmation from Kylie yet.
Sources have also confirmed that as happy as the family is about the news, most of them believe she's too naive for this responsibility. And that would explain elder sis Kim K's extra vague, super cryptic tweet earlier today.
Earlier this week, People.com had revealed that the 36-year-old mother of two, who's also expecting her third child via surrogacy, wasn't as thrilled about the news.
Sources claimed to People, "Her first reaction was, 'Seriously?' She didn't respond well at first. It's like she and Kanye had gone on this whole journey to get pregnant for months, and now this happens to Kylie. She teared up. It definitely took a lot of time for her to process it."
She broke her silence on the topic with a feisty clap back to an article that claimed the reality TV icon wasn't happy to learn about Kylie's pregnancy. She retweeted the link to the story, adding, "This sounds like a very fake story."
But any bit of negative emotion has definitely simmered down with the news of Khloe Kardashian's pregnancy. As People reported, sources have claimed that the sisters are looking at this as a "unifying experience for them as sisters. Getting pregnant at the same time was totally unplanned but they are really happy about it."
As thrilled as Khloe and NBA boyfriend Tristan Thompson are about it, a little-known fact is the long journey that the 33-year-old Keeping Up with the Kardashians had to take to motherhood.
On last season's KUWTK, when Kim was considering a surrogate, we saw her take Khloe to the fertility clinic to explore the prospect. Khloe was then informed that there are fewer follicles in her uterus for a woman her age.
The news, as expected, had left her rather unsettled. "This is definitely not all how I thought this appointment was going to go," she had responded. "What if I can't get pregnant?"
Luckily, Khloe, who claimed to have always wanted to be a mother, is seeing her dreams coming true. Here's hoping we can only keep up with the vast expansion the clan seems to be up to!