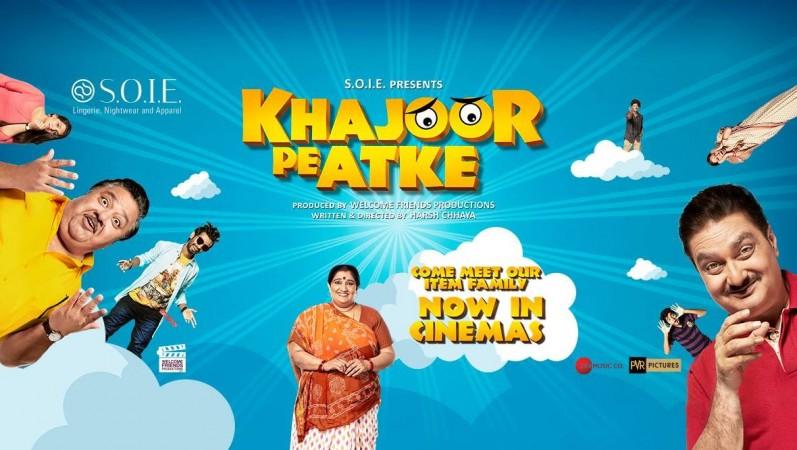 Actor Harsh Chhaya's debut directorial Khajoor Pe Atke has opened with the mixed response from critics. The critics in their reviews praised the performances of the star cast, but also added that the script is not up to the mark.
The film features a stellar cast, including Vinay Pathak, Mayur More, Manoj Pahwa, Seema Bhargava, Sanah Kapoor, Alka Amin, Suneeta Sengupta, Nagesh Bhonsle and Dolly Ahluwalia.
Khajoor Pe Atke is about a middle-class family where one of the members ends up in the ICU and how the situation unfolds.
According to critics, the actors' performances and the dialogues are the only saving grace as the film falls flat, thanks to the script. And the film can be watched because of the cast.
Read the critics reviews of Khajoor Pe Atke below:
Devesh Sharma of Filmfare said: "First time director Harsh Chhaya (who has done a smallish cameo in the film) was known for his understated roles but here he has let the proceedings go over the top. You don't mind the broad strokes because it's a comedy."
Ankita Chaurasia of BollywoodLife said: "Khajoor Pe Atke doesn't really manage to live up to its promise of being a comedy. Nor does it end up being a sensitive film. The result is a film that wastes talented actors on a watered down, haphazard script. How we wish there was more to this tale than what we saw."
Udita Jhunjhunwala of Firstpost said: "The screenplay and poor production values give the sense that Khajoor Pe Atke would have been better suited to the stage or as a teleplay. Though the senior actors dive into the material and bring out the humour, random songs, side plots and an emotional vacuity eventually flatline this film."
Nandini Ramnath of Scroll.in said: "The humour is often biting, especially when it comes to the happily hypocritical siblings, but it actually needed to have been even more savage. The background music, which acts like a laughter track and keeps trying to alert viewers that a joke has been cracked, adds to the film's inability to trust the material and be subtle."
Reza Noorani of The Times of India said: "Harsh Chhaya, in his directorial debut, has presented a dark yet hilarious portrayal of a family in crisis, which may seem over the top, yet is totally relatable. Performances by the entire ensemble cast, mainly the husband and wife duo Manoj and Seema Pahwa, are top-notch, and are the strength of the film along with the dialogues."
IANS reviewer said: "Overall, mounted with moderate production values the film is a mediocre fare worth a Sunday watch on television."
Watch Khajoor Pe Atke trailer here: