If the long-drawn buildups to super fights are anything to go by, it is safe to say the talk around a potential blockbuster between undefeated boxer, Floyd Mayweather and undefeated MMA sensation, Khabib Nurmagomedov is at its earliest stage.
Nonetheless, there is considerable excitement as both Khabib and Mayweather have been quite vocal about a possible matchup, adding to the hype on social media.
The two superstar fighters have had some interesting exchanges on Twitter after Khabib gave rise to speculations, challenging Mayweather for a fight while flaunting his perfect record (27-0) in the MMA.
While yet another instance of Mayweather coming out of retirement can never be ruled out, the American boxing great was seemingly set for retirement life after made close to $300m from his win over Conor McGregor in the "Money Fight" last year.
However, speculations were rife the Mayweather would face arch-rival Manny Pacquiao in a rematch of their 2015 "Fight of the Century."
Considering Mayweather's ability to keep himself in the news, there were no surprises when he responded to Khabib's call and fueled the speculations over the fight, which he hinted would be held in Las Vegas.
However, Khabib was quick to dismiss Mayweather's suggestion and pointed out he can't fight in Las Vegas, considering the suspension he has received from the Nevada State Athletic Commission over his post-fight melee at UFC 229 earlier this month.
The Russian Boxing Federation though has offered to help, saying they would be happy to host the potential bout at the 80,000-seater Luzhniki Stadium, which hosted the Fifa World Cup 2018 opener and final, in Moscow.
"If this fight happens according to the rules of boxing, then it would be interesting for us to host it," Russian Boxing Federation general secretary Umar Kremlev told RIA Novosti, as quoted by RT.
"We are ready, if that's what Khabib wants. Khabib boxes well, he showed that against McGregor, where he was one step ahead. Regarding the place, Luzhniki [would be best]."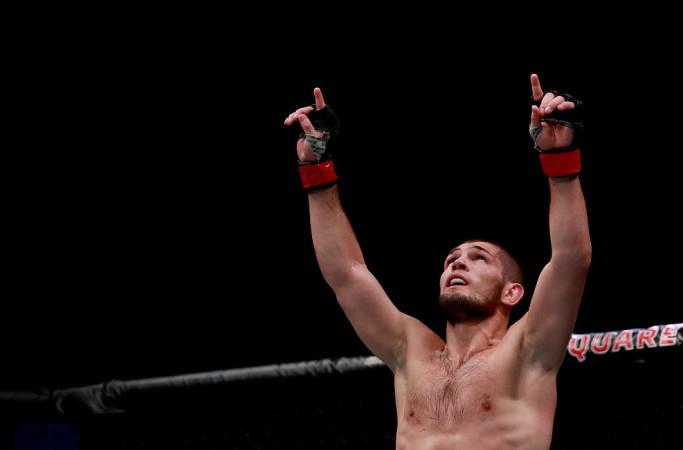 White: Don't pay attention to rumours
Meanwhile, UFC president Dana White has insisted fans not to pay heed to the speculations and revealed he hasn't been approached by Mayweather's camp about the fight.
Notably, White had played a key role in arranging the Money Fight between McGregor and Mayweather, which went on to become one of the costliest in the history of the sport.
"Don't pay attention to it. First of all, the Mayweather team has not approached us at all. Khabib is under contract with the UFC; we haven't talked to anybody from the Mayweather tea," White told the ESPN.