Legendary promoter Bob Arum has said he is not going to be involved in the much-talked-about rematch between Floyd Mayweather and Manny Pacquiao.
"I don't want to get involved with two old men fighting for a payday, because they think the public is going to throw 'em millions of dollars. Well, maybe the public will. Good. Good luck to them. I don't want to get involved," Arum was quoted as saying by The Manila Times.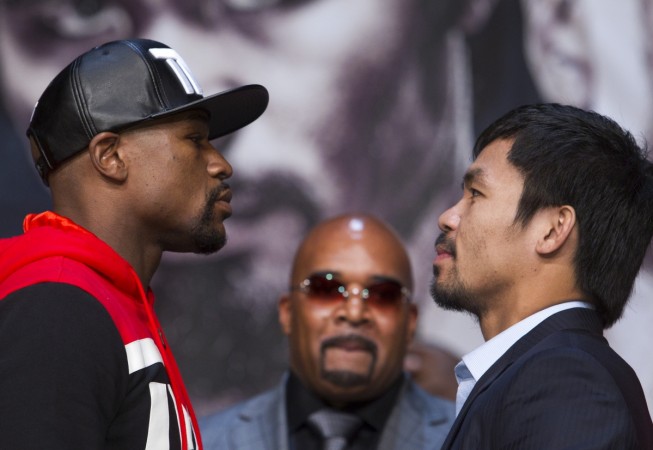 The Top Rank promoter's comments come after the two legendary boxers set the ball rolling for a rematch of their 2015 "Fight of the Century" in December this year.
Mayweather (50-0) posted a video on Instagram on Saturday after meeting with arch-rival Pacquiao in Tokyo during his world tour, hinting at the possibility of the two facing-off inside the ring for one more time.
"I'm coming back to fight Manny Pacquiao this year, another nine-figure payday on the way!" Mayweather wrote.
In the video, Pacquiao can be seen teasing Mayweather, saying he holds one of the two titles that they had fought for in 2015. Notably, the Filipino senator defeated Lucas Matthysse in July to win the WBA welterweight championship.
On the other hand, Mayweather seemingly said he will take back the title from the Pac Man like he did last time.
Later Pacquiao uploaded the clip on his social media and wrote: "50-1#NoExcuses".
Notably, after five decades of buildup, the 2015 fight between the two legends was seen as a letdown as Mayweather unanimously won the bout.
Mayweather (50-0), had seemingly gone into retirement after his record PPV Superfight win over Ultimate Fighting Championship (UFC) star Conor McGregor in August 2017. In December
There were speculations of Mayweather coming out of retirement once again to fight McGregor, this time inside an Octagon.
Meanwhile, the relationship between Pacquiao and Arum had strained as the former was reportedly taking legal action against the Top Rank promoter over nonpayment for his July bout against Matthysse.
The Filipino boxer though, last week, clarified it was a miscommunication between him and his promoters.
"My post from the other day was a result of miscommunication between my Team
and Top Rank. Everything has been clarified. I would like to thank Bob and
Top Rank for helping guide my career and for the many great years of
working together. We have accomplished so many amazing things together," Pacquiao wrote on social media.