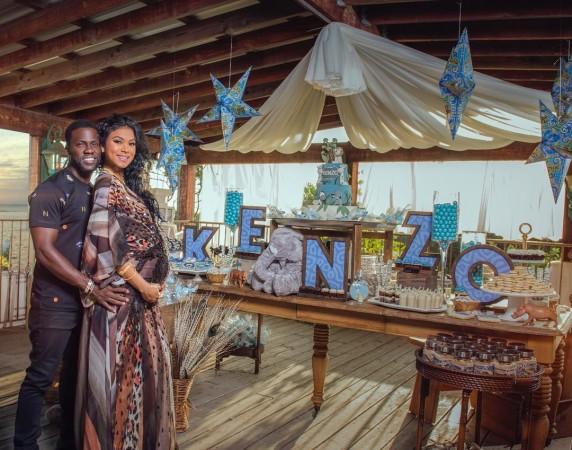 After days and weeks of battling an extortion scandal, looks like all's well at the Hart household. Comedian Kevin Hart and wife Eniko Parrish are expecting their third child together and on Sunday, they celebrated the arrival and announced their baby's name in the most perfect jungle-themed, 'Lion King'-esque baby shower ever!
Also read: Kevin Hart apologises following alleged extortion plot
Eniko took it to her Instagram account and used the most theme-appropriate filter to announce the name of their little one: Kenzo. She posted a snap on her Instagram story, captioned "Kenzo's mama".
The venue for this ritzy event was the Calamigos Beach Club in Malibu and as is clear for the social media coverage of the shower, not a single expense was spared. Kevin sure did go all the way in to make this a lavish affair!
From a wild assortment of safari animals spread out all over the place to the yummiest looking dessert table ever – not a thing was missing to make this the baby shower of the year so far. The theme was captured rather impeccably with all the right variety of sweets.
The couple are going to have a baby boy this time, in addition to Kevin's son and daughter from his previous marriage with Torie Hart. The baby's name was placed with hashtags over items all throughout the venue.
Eniko was glowing as ever, taking snaps with friends and family and Hart ensured to send out the message to the world loud and clear – that despite the recent developments, their family is still as tight as ever.
It has only been two weeks that the cheating and extortion scandal has hit the family, which had also made Kevin publicly apologise on his Instagram. Kevin was being extorted by someone who claimed to having videos of the comedian and herself in compromising situations. The police have been involved and the woman has since then confirmed that she did not know Hart was married.
However, the funny-man of Hollywood was seen all smiles and sporting happy vibes at the event. Over sized popsicles and the cutest golden retrievers dressed with manes to resemble regal lions – the couple with the kids, posed in front of et all.
Kevin was all about hashtags on his Instagram posts, captioning the pictures with "#Harts #TheseAreTheOnlyOpinionsThatMatter #WeChooseToLiveLoveAndLaugh #TheOnlyOnesThatMatter #HappySaturday #DopePic."