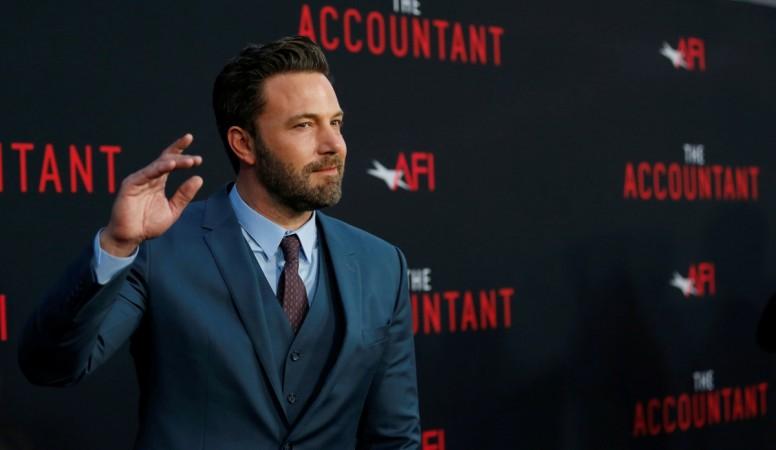 Whether or not in a batman suit, Ben Affleck is one who knows how to win the war at the box office. Affleck's latest thriller, The Accountant, has opened with a $24.7 million box office collection this weekend, according to studio estimates.
The R-rated thriller, directed by Gavin O'Connor, opened to a not-so-positive response from critics, but the reviews did not have an impact on the box office collection of the Affleck-starrer. Viewers, of which 58 percent were male and 68 percent were over the age of 35, contributed to the big success for Affleck and Warner Bros. once again at the box office.
Though the film couldn't break the record of Gone Girl, starring Affleck and Rosamund Pike ($37.5 million), it fared better than Warner Bros.' Argo ($19.5 million) that was released in 2012, and The Town that earned $23.8 million in 2010.
Interestingly, the Affleck-starrer earned more than what Warner Bros. had predicted for the film. According to the studio's early predictions, The Accountant was expected to rake in approximately $15 to $20 million, but it went on to collect $24.7 million.
"We're in the Ben Affleck business, and we're proud of it. We've had a lot of movies with him, and we have a lot of movies coming up with him," Jeff Goldstein, Warner Bros. president of domestic distribution, told AP. "Audiences just love him."
Other Hollywood movies that topped the chart are Kevin Hart: What Now? and The Girl on the Train. Kevin Hart: What Now? collected $11.98 million, while the last week's release, The Girl on the Train, netted $11.975 million this weekend for Universal, which took its overall domestic box office collection to $46.6 million.
"We love Kevin Hart and we love our association with him. This is our fourth collaboration with him this year alone," Nick Carpou, Universal's president of domestic distribution, told AP. "He is tireless in the way that he promotes his projects and the way that he's always working. It's really a pleasure to be part of it."
Here is a look at the domestic box office collection of this weekend, as provided by AP:
The Accountant: $24.7 million ($2.8 million international)
Kevin Hart: What Now?: $11.98 million
The Girl on the Train: $11.975 million ($7.8 million international)
Miss Peregrine's Home for Peculiar Children: $8.9 million ($23.5 million international)
Deepwater Horizon: $6.4 million ($4.2 million international)
Storks: $5.6 million ($10.6 million international)
The Magnificent Seven: $5.2 million ($3.5 million international)
Middle School: The Worst Years of My Life: $4.3 million
Sully: $3 million ($1.3 million international)
The Birth of a Nation: $2.7 million