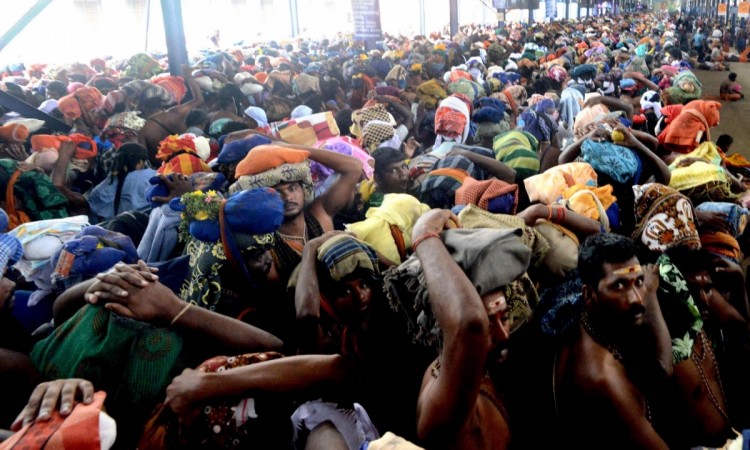 The iconic Sabarimala temple of Kerala, which attracts crores of devotees from across India and the world, now has a new name — something that has been decided by the Travancore Devaswom Board (TDB), which is responsible for the administration of the holy shrine.
The temple has been hitting headlines for quite some time now over the issue of entry of women into it, with the Kerala government recently saying that it was not opposed to letting women enter the shrine. The matter is currently being heard before the Supreme Court.
According to the official website of the shrine: "Sabarimala Sree Dharma Sastha Temple, dedicated to Lord Ayyappa, is the most famous and prominent among all the Sastha temples in Kerala. The temple is situated on a hilltop (about 3,000 feet above sea level) named Sabarimala in [the] Pathanamthitta district [of Kerala]." The name appears accordingly in official records of the shrine and the administrative board.
However, the TDB has now decided that the temple will henceforth be called the Sabarimala Sree Ayyappaswamy Temple, because of the deity that presides over it. A TDB member told International Business Times, India, that since the presiding deity of the temple at Sabarimala is Sree Ayyappaswamy, the board has issued an order decreeing that he be included in the name of the temple.
The TDB member added that the decision was also fuelled by the fact that the Sabarimala temple was the only one under the board that had Ayyappaswamy as its presiding deity, and that is why the temple attracts crores of devotees every year.
On a different note, devotees of Lord Ayyappa — another name for Ayyappaswamy — may soon have it a little easier when visiting the Sabarimala temple, with the Kerala chief minister having hinted that an airport may come up soon at Erumely, a place the devotees often use as a halt before continuing on their journey to the shrine.