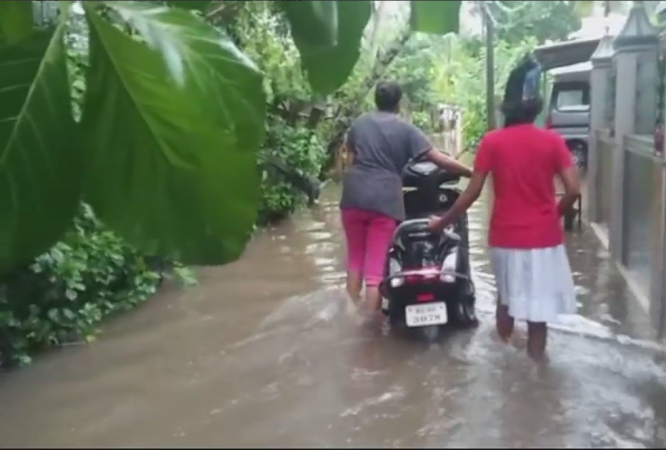 Heavy rains lashed Kerala on Sunday, July 15, bringing several cities down to its knees. Many low-lying areas in Kochi were inundated, which resulted in traffic snarls and inconvenience to pedestrians. Such was the situation that authorities are said to have opened up relief camps in areas where many houses were submerged.
Live Updates
2018-07-1614:14 (IST)
Crops destroyed
The heavy rains have destroyed the crops in the state with reports stating that over 8,000 hectares of agricultural fields have been affected
2018-07-1612:18 (IST)
Water-logging in several areas
Several areas in the state have been left water-logged, due to which residents have been forced to stay indoors
2018-07-1612:15 (IST)
Five dead, 3 missing
Two deaths have been reported from the Kozhikode district and one each in Alappuzha, Ernakulam and Kannur.
Three people have been reported as missing.
2018-07-1611:55 (IST)
Fishermen warned
Fishermen in the state have been warned against venturing out into the sea. The weather bureau has also said that the state was likely to witness such weather until Thursday, July 19, and that the heavy rains will be accompanied by gusty winds, making the sea extremely rough.
2018-07-1611:39 (IST)
Trees uprooted, no electricity
Several trees have been left uprooted and electricity polls have been brought down by heavy rains and strong winds.
"Many trees in and around Kottayam town fell on the roads causing severe traffic blocks. There was no power through the night as electricity lines snapped in many areas of the city," Sajimon T Joseph, assistant station officer of Kottayam Fire station, told the New Indian Express.
2018-07-1611:32 (IST)
Quarry mines closed
"In Wayanad, all quarry mines have been asked to stop operating temporarily to prevent landslides. High hazard zones have been identified and marked in the hilly pockets of the districts including in Kozhikode, Idukki, Wayanad etc. Once rains intensify, tourists in hilly areas will also be warned not to drive during the evenings," the News Minute quoted an official from the State Emergency Operations Control as saying.
2018-07-1611:30 (IST)
Warnings issued
The disaster management authority has issued warnings to residents of several areas and asked them to be alert. Landslides, flooding and soil erosion are likely, due to which people have been advised against travelling to hill areas.
2018-07-1611:26 (IST)
Schools declare holiday
Due to the heavy downpour, schools in eight districts — Thiruvananthapuram, Kollam, Pathanamthitta, Alappuzha, Kottayam, Idukki, Ernakulam and Thrissur -- have declared a holiday on Monday, July 16.
In addition, Kerala University has postponed its examinations scheduled for Monday, July 16 to July 21. However, Cochin University of Science and Technology is functioning as usual