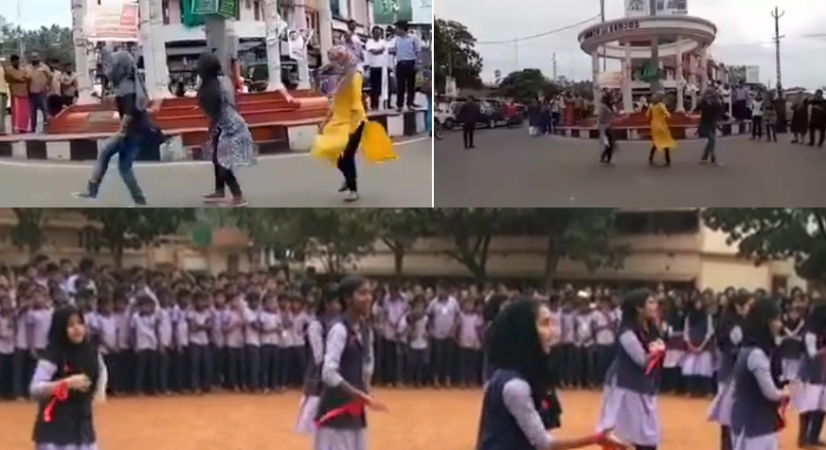 When three girls from the Muslim community shook a leg to the popular Jimikki Kammal song as part of AIDS day awareness campaign in Malappuram district in Kerala on December 1, little did they think about the controversies that eventually erupted.
Read more: What's all the hullabaloo about hijab-wearing students dancing in Kerala?
The dance video went viral and people on social media showered abuses on the dental college students and even their parents. The incident became the hot topic for prime time debates even on national news channels.
Now, another video has surfaced, showing a group of school students, majority of them wearing black hijabs, dancing to popular Bollywood songs. Incidentally, this flash mob that took place in Nellipuzha in Palakkad district was also performed as part of AIDS day awareness programme.
Watch the video here:
Earlier, in one of the videos that was widely shared on social media, a Muslim clergyman was heard saying that the three Muslim girls will land in hell just because they are not obeying the words of Allah.
Though some consider dance forbidden for Muslim girls, netizens ask why they do not make issues when traditional Oppana is performed on the occasion of Muslim marriages, youth festivals, television shows and similar public events.
Here's another television performance of a group of Muslim girls on Flowers TV:
Kerala Women Commission intervenes
After the hijab-wearing students' dance video unleashed vulgar comments and abuse on social media, the Kerala Women's Commission filed a suo-moto case against people who insulted the dignity of women. The Commission has asked the police cyber cell to take strict action and to submit a report on the incident.
MC Josephine, the chairperson of the Commission, issued the order on Wednesday.