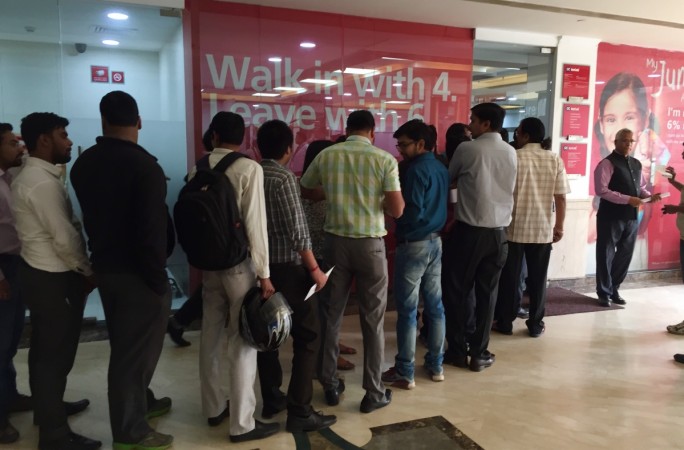 When Prime Minister Narendra Modi announced the government's decision to demonetise Rs 500 and Rs 1,000 currency notes to curb corruption and the flow of black money, little did we know about the crisis people would face due to the historic announcement.
Many netizens including celebrities had appreciated the PM for taking such a bold measure, but it seems like the people who lauded the PM, have now started cursing the government - as they are unable to meet their day-to-day expenses. Even after a week of the currency ban, long queues are seen in front of ATMs and banks all over the country.
Kerala Chief Minister Pinarayi Vijayan has come forward asking the central government to allow public to use Rs 500 and Rs 1,000 for transactions till December 30. "It has now been understood that the decision to scrap the high denomination notes was not made to stop the flow of black money in the country. From the recent reports, it is understood that many money launderers in India came to know about the demonetisation long before. But the common people, who were not aware of it are the ones suffering now," the CM posted on his Facebook page.
The Kerala CM said: "People know the importance of Rs 500 and Rs 1,000 notes in their daily life, but it was banned in a short span of time without taking any necessary precautions." He also criticised the PM for visiting Japan, leaving Indians back home in a critical situation, and requested the central government to extend the deadline for using the banned notes until they get enough funds.
Thomas Issac's prediction
Soon after Modi made his historic announcement, Kerala Finance Minister TM Thomas Issac had commented on the move, calling it a foolish decision made by the Indian PM. Netizens and Modi fans were quick to attack Thomas on why he was not welcoming the bold move of the PM as many had initially welcomed it. But now, after a week of the announcement, many have come forward supporting the Kerala minister.
In his recent Facebook post, Thomas says: "I didn't expect the situation to be this terrible. Many are starving as standing in a long queue in front of banks have become their job, but the maximum they can get is Rs 4,000. Most of the shops have been closed and many have even postponed marriage functions. Now, I don't see the people, who had verbally attacked me after I had predicted this situation few days ago."
Thomas has also listed four strategies the central government, he said, should now take to handle the situation.
1. The Prime Minister must come back to New Delhi from his trips. As Arun Jaitley said, this issue will continue for more than a month and the PM must be here to take some major decisions.
2. The central government must allow the traders to accept the banned notes atleast till November 30.
3. Know your customer (KYC) forms must be made mandatory for the purchase of jewellery and luxury items.
4. State treasuries, financial institutions and public utilities should be allowed to function.
Mollywood celebrities have also commented on the decision made by the PM.
Shaan Rahman
Total mismanagement. At least the Hospitals (not just GOVT hospitals) should accept 500/1000 rupees notes for a limited period. I went to Medical Center Kottayam to see a relative of mine and they told me about the problems they're facing. No money in ATMs and Hospitals don't accept cash. Hospitals are ready for the transfer of funds online but these poor people who doesn't have a smart phone or a computer are not aware of it. All they know is to go to an ATM, withdraw money and pay the bills. Might be a great move and all should've kept the Hospitals out of it for a few days. At least till all the banks and the Atms get ample amount of fresh currency.
Jayashree Lakshmi Narayanan
This really saddened my day. I hope the rural ATM are filled with cash and guys if u know any really old couple . Old ppl. Living alone plz help them. If u know local labour r helpers with no bank acc - if u get to new cash help them get it ... I wish there are some extra bunks and booths arranged for this one month till normalcy.