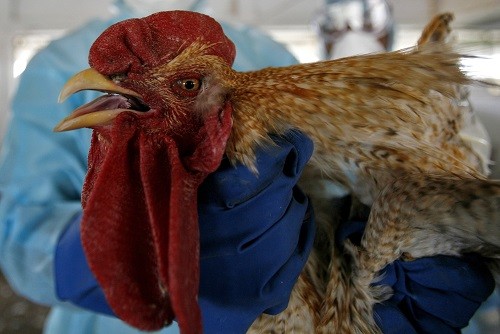 Panic over the bird flu has intensified in Kerala on Friday after authorities confirmed that the H5N1 virus was the main culprit behind the current outbreak.
H5N1 is a strain of influenza virus that poses serious threat to humans, according to the World Health Organisation (WHO). A person can be infected with the virus with direct or indirect exposure to infected birds – either dead or live.
The state has been put on a high alert and authorities from the IMA (Indian Medical Association) Kerala have issued a warning over the potential risk posed by the virus, according to The New Indian Express.
The main virus involved with the current outbreak was first reported as H5; however, the authorities from the World Organisation for Animal Health (OIE) confirmed on Thursday that the H5N1 was the variant that caused the death of nearly 20,000 ducks in Kuttanad.
Alappuzha, Kottayam and Pathanamthitta are the three districts in Kerala, mainly affected by the current outbreak that affected the ducks in the first week of November.
Latest reports of detecting the virus among broiler chickens at a farm in Kumarakom in Kottayam show that the disease has already spread to other birds.
However, the state hasn't reported any cases of avian influenza among humans.
The officials have already adopted all necessary steps needed to put an end to the outbreak.
Health authorities have started culling all the fowls in the affected areas. The animal husbandry officials burnt about one lakh ducks to death on Wednesday.
Culling of the birds will continue for another three days, according to a latest report from PTI.
A statement appeared on the Directorate of Health Services (DHS) Kerala, cautioned the public against keeping a direct contact with birds like ducks and chickens.
A report released by the DHS Kerala on Thursday, 27 November, showed that the authorities had been closely monitoring the area and visiting houses to identify any cases of bird flu in humans.
In the last two days, the team has visited 14,054 houses in the three districts and checked the health status of nearly 50,063 people.
It includes 41,201 people in 11,729 houses in Alappuzha, 1,656 houses in Kottayam and 2,224 people in 669 houses in Pathanamthitta.
Previous cases of Outbreak in India
India has witnessed similar H5N1 outbreaks in the past. West Bengal had reported two outbreaks of H5N1in the recent past – in 2008 and 2011.
Karnataka was under high alert in 2012 after 3,400 turkeys died from bird flu at the Central Poultry Development Organisation (CPDO) in Hesaraghatta, Bengaluru. Authorities had to cull over 33,000 poultry birds to contain the outbreak.
Know more about H5N1 Virus: Symptoms
People should seek medical help on noticing the following symptoms, according to the World Health Organisation:
High fever (above 38° C)
Sore throat
Cough
Muscle aches
Abdominal pain
Feeling of uneasiness
Chest pain
Diarrhoea
Difficulty in breathing
Changes in mental status