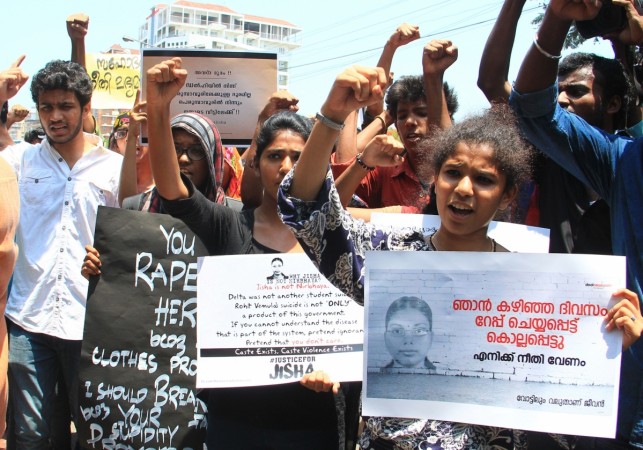 A 19-year-old student was allegedly gang-raped by three men in a moving autorickshaw in Kerala's Thiruvananthapuram on Tuesday, according to reports. This is the second incident of sexual assault reported from the southern state since last Thursday, when a law student was found raped and murdered at her home in Perumbavoor.
The teenager, a nursing student, has identified two of her alleged assaulters as 25-year-old Sujith and 24-year-old Shyju, according to NDTV. In her statement to the police, she said that she knew Shyju, who was the driver of the autorickshaw.
The police have registered a case against the accused. However, no one has been arrested as yet.
On Thursday, a 30-year-old Dalit student was found dead at her home at Perumbavoor in Ernakulam district. The woman's body had about 30 injuries and her entrails had spilled out, NDTV reported. Also, she had reportedly been hit hard on her head.
The Kerala police had, on Tuesday, reportedly detained two suspects in the case. However, the police are uncertain if they were involved in the alleged rape and murder of the law student.
The police arrested a third suspect from Kannur late on Tuesday, Manorama Online reported. The police suspect the third suspect, the victim's neighbour, to be the main culprit.
"As per our information and as per our investigation, the accused is only one person. Some people seen one person coming out of the house (of the victim)," Ernakulam Range IG Mahipal Yadav said.
"We have enlisted the number of suspects and are in the process of verification. We are working on on all angles. We will be taking this investigation to the logical end. As of now, we can't say whether the persons in custody are the culprits or not. We expect a breakthrough in the case in two days," he said.
The National Human Rights Commission (NHRC) issued notice to the Kerala government, Chief Secretary, the Director General of Police and the Superintendent of Police (Ernakulam Rural) over the alleged rape and brutal murder of the 30-year-old. It has asked them to submit a report about the incident within two weeks.
"The crime is so spine-chilling and gruesome that words fall short and expressing anguish and shock appear meaningless and mere ritualistic. It is a matter of utmost concern that women's security is facing grave threat in spite of several measures taken in the recent times including amendment in Indian Penal Code,Criminal Procedure Code and Evidence Act," NDTV cited a statement from NHRC.