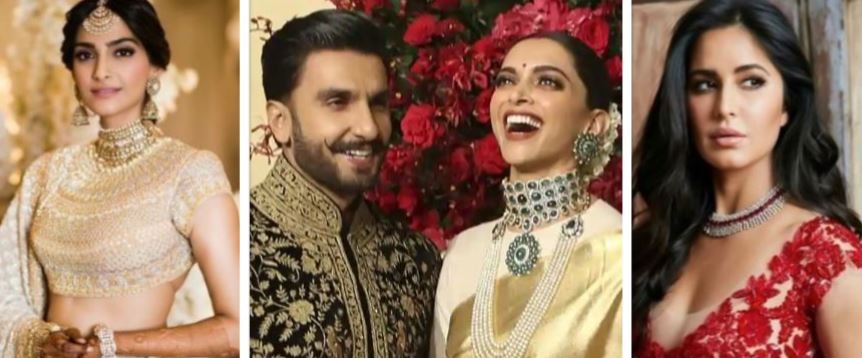 Bollywood is a place where it doesn't take equations too long to form or break. In this fragile world of showbiz and glamour, lifelong relationships are built and broken overnight. Friends turn to enemies and enemies to friends. Keeping the same frenemy situation in mind, we feel few top Bollywood actresses won't attend Deepika Padukone and Ranveer Singh's wedding reception in Mumbai. Let's take a look.
Katrina Kaif: It wouldn't take a genius to figure out what would prevent Katrina Kaif from attending Deepika – Ranveer's reception party. Ever since Ranbir Kapoor ditched Deepika Padukone and went ahead to be with Katrina, things have turned hunky-dory between the two.
When Katrina's bikini-clad picture from her vacation with Ranbir Kapoor had gone viral, this is what Deepika had said in an interview with India Today, "It has never happened with me. I believe if you are a celebrity or public figure... these things are bound to happen. And I don't think you can accuse anybody of anything. If I am a public figure and if someone has captured me then I feel I should have been a little careful."
Anushka Sharma: Ranveer Singh's ex, Anushka Sharma is a non-complicated, straight-forward person. Since we didn't get to see Deepika or Ranveer attending her wedding reception in Mumbai, it is highly unlikely that Anushka and Virat would attend their function.
Sonam Kapoor: Sonam Kapoor and Deepika Padukone have always been at loggerheads. While the duo made their debuts almost at the same time, Deepika's career took-off leaving behind Sonam to struggle a bit. And ever since then, Sonam doesn't leave an opportunity to take pot-shots at Deepika. From calling her "good girl gone bad" to having an "over-enthusiastic PR team", Kapoor never shies away from taking digs at her. Since Deepika gave a miss to Sonam's wedding, it's obvious that we wouldn't get to see Sonam at her wedding reception either.
Kareena Kapoor: While Kareena Kapoor had openly declared her love for Katrina Kaif on Karan Johar's show while Ranbir was dating Kat, she never did the same when the Kapoor boy was dating Deepika. Deepika too has time and again taken shy digs at Kareena. Once on being asked what would she do if she woke up as Deepika, Kareena said, "I dont think I can wake up as Deepika as I can't relate to her."
Since many of the films which Kareena declined and went to Deepika emerged out to be humongous hits, Deepika once said that a good alternative career option for Kareena would be "charity." With so much of history between the two, Kareena might give a miss to her wedding reception.
Priyanka Chopra: Though the two share great camaraderie, it is expected that PeeCee wouldn't be able to attend Deepika-Ranveer's wedding reception owing to her own wedding preparations.