Tom Cruise's ex-wife Katie Holmes and her current beau Jamie Foxx are currently enjoying their private relationship. Ever since their pictures from Malibu beach surfaced online, many are speculating about their private lives. Recently, an alleged report surfaced that stated Katie's daughter Suri Cruise is not pleased with Jamie Foxx's moving in with them. The report, however, was soon debunked by Gossip Cop.
After her divorce with Tom Cruise, Batman Begins movie actress Katie Holmes stayed single for a long time. There were several alleged speculations that because of her divorce agreement, Katie is reportedly not allowed to publicly date anyone. That being said, when her pictures started to surface with Django Unchained movie star Jamie Foxx, many believed that Katie and Jamie are the new epitomai of love in the entertainment industry.
It was also speculated that Katie Holmes and Jamie Foxx will soon settle down together. However, this is not happening anytime soon as both the stars are taking their relationship extremely slowly and are maintaining privacy.
However, as per a report by NW, Katie Holmes and Jamie Foxx apparently bought a huge penthouse in New York City. But things are not going too well as Katie's daughter, Suri, is particularly not pleased with the idea of living with Jamie Foxx in the same house.
"When Katie brought it up, she never imagined Suri would react that way. Suri never seemed to mind having Jamie around before. But she's been giving her mom the cold shoulder ever since," revealed an insider.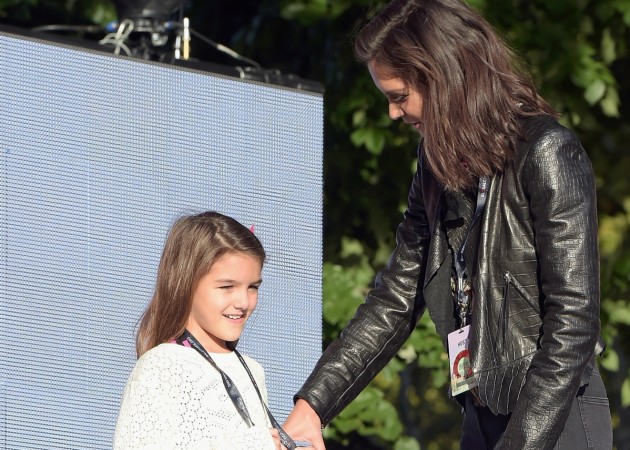 In addition to this, the tipster went on to add that Suri Cruise misses her father Tom Cruise and does not like the notion of Jamie Foxx stepping in his place.
"Suri doesn't like this idea of Jamie invading her home space and becoming a sort of stepdad," adds the alleged insider. "She misses him[Tom Cruise], especially now that she's about to become a teenager. Having Tom back in the picture could only cause drama with Katie."
The fact-checking website, Gossip Cop, pointed out that NW's report is based on a false premise. To set the records straight, Katie Holmes and Jamie Foxx have not bought a five-bedroom penthouse in New York City and at the same time, the duo does not have any plans to move in together.