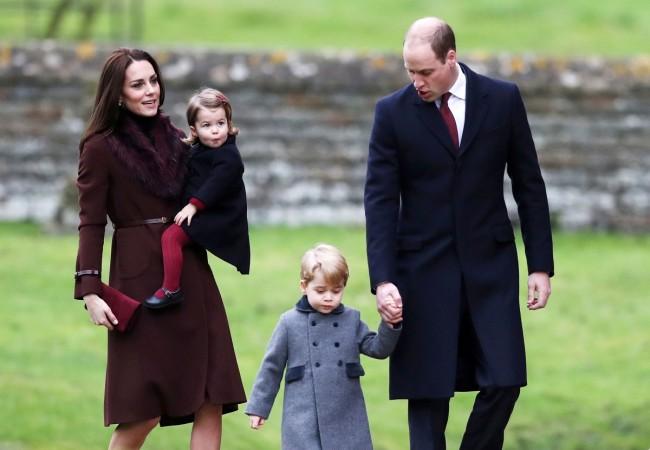 The misconception that celebrities and royalties do not repeat outfits has been shot down by Kate Middleton as she repeated an outfit not once but twice.
What looks like her favourite outfit now, the Duchess of Cambridge donned a Michael Kors coat for the third time. The princess opted for a blue fit-and-flare jacket over a black outfit as she accompanied the royal family at the unveiling of a new memorial for members of the armed services who died in the Iraq and Afghanistan wars.
Also Read: Malia Obama's internship style statements could give Ivanka Trump a run for her money! [PHOTOS]
Middleton styled the look with a bold blue hat that reminded a few twitterratis of Audrey Hepburn. She decided to tie her hair into a bun. She matched the look with a pair of royal blue pumps. She completed the attire with a dark blue wallet that almost matched with her gloves. She opted to keep the jewellery limited, suiting the occasion as she wore a beautiful piece of sapphire jewellery, AOL reports.
According to Hollywood Life, Middleton first wore the blue A-line coat back in April 2014. Attending the ANZAC Day March and Commemorative Service at the Australian War Memorial, she introduced the gorgeous blue coat to the world as she wore the dress with minimalistic jewellery and a pair of blue pumps. To accessorize a little, she chose to pin a red flower onto the coat's collar and a small blue bow hat. This time, she let her brunette hair down.
The second time the coat previewed at an event was in May 2016. This time, the blue attire made way into the Magic Garden at Hampton Court Palace, in London. Ditching the hat for this look, Middleton added a grey chiffon blouse under the coat. This time, she chose to mix and match a little as she sported a nude colour wallet box and pumps. Letting her hair fly again, Middleton let her curls grab the attention on the windy day.
Her fabulous coat is becoming our favourite as well. But which look suited her best? Let us know in the comments.