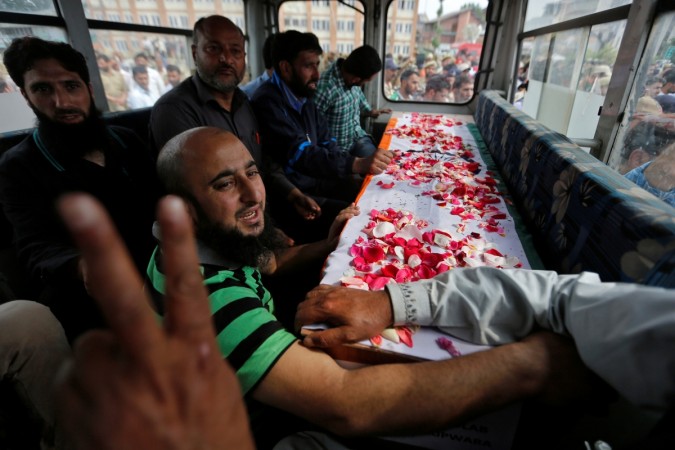 When Kashmir Valley celebrated Eid-ul-Fitr on July 6, people were looking forward to many more celebrations coming up. The summer months, from May to September, is the time most weddings are held in Kashmir because of the pleasant weather and the resplendent beauty that pervades the Valley.
The celebrations never began. What was supposed to be a long Eid weekend was cut short on July 8 (Friday) by the announcement that militant commander Burhan Wani had been killed in South Kashmir during an encounter.
SInce most people didn't even know that an encounter was going on in another part of the state, the news came as a surprise. But what happened later shook the entire region.
News streamed continuously about young men getting killed in clashes with the security forces. Within a span of three days nearly 32 were dead and over 1,500 injured, including police personnel. Several of those killed are said to be in the age group of 12-25 years.
The Eid festivities stopped abruptly. Mourning over dead bodies began. Local dailies are filled with announcements from families declaring cancellation of marriages, or change in plans to austere events.
"How could we have a gala function in the family when Kashmir is burning. It is just insensitive," Salik, a resident of Budshah Nagar, Srinagar, told International Business Times, India. "My brother was supposed to get engaged, for which we had to go all the way to the downtown area of Srinagar city, which is the most volatile one. Moreover, we cannot risk the lives of our relatives and friends and ask them to come over at this point."
Around 55 kilometre away from Srinagar, in South Kashmir, which was the epicentre of the violence, Laila Khan was supposed to get married to a doctor in Shopian district. The two families had planned the big event to the minutest details, and invitation cards had been sent out to relatives.
The grand plans stand cancelled. Both Laila, who is also a lawyer, and her would-be husband have instead decided to perform a simple nikah (marriage ceremony), where no feasts will be served and only the parents of the bride and bridegroom will participate.
Like Laila, Srinagar-based journalist Saqib cannot think of holding a marriage celebration. Saqib, who was visiting Shopian with his parents for a family gathering, is uncertain about his upcoming wedding. The family is stuck at their relative's house.
"We cannot even step outside. How can we prepare for marriage? Each day, one or the other funeral passes by this locality. At a time when our neighbours are mourning, it is impossible to even think about any celebration," Saqib said.
In pressing times, there are some who seek solace from other deeds.
Srinagar-based journalist Yusuf Jameel wrote on Facebook, "Some of the food items spared from the cancelled wedding feasts may be diverted to hospitals to feed the attendants of the injured and other needy elsewhere."