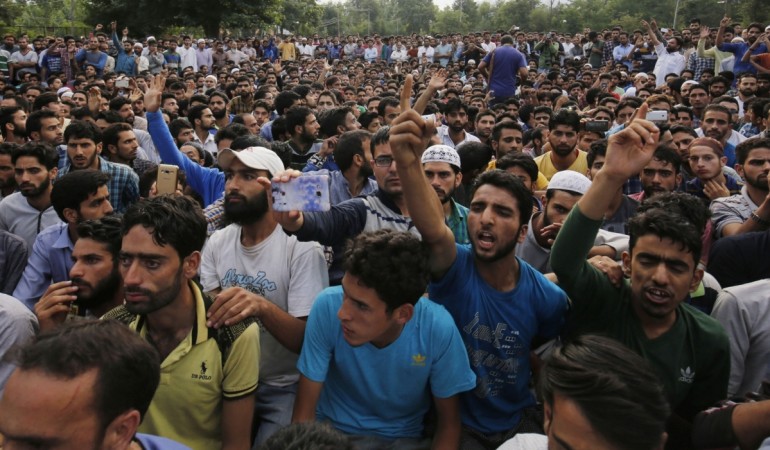 The violent protests that have erupted in Kashmir since Saturday over Hizbul Mujahideen militant Burhan Wani's killing the previous day could have been instigated by Pak-based terrorists Hafiz Saeed and Syed Salahuddin.
On Saturday, a prayer meeting was held in memory of Burhan Wani in Muzzafarabad (Pakistan-occupied Kashmir, or PoK). The gathering comprising Hizb-ul-Mujahideen militants was addressed by its chief Sayeed Salahuddin (Syed Salahuddin) and Hafiz Saeed of Jamaat-ud-Dawa (JuD). This was followed by a meeting of the cyber cell of JuD and Salahuddin wherein it was decided to use social media to foment anti-India protests in the Kashmir Valley, according to India Today.
The creation of hashtags and and Wani's display pictures on social media was done by the JuD cyber cell, the magazine reported.
Both Saeed and Salahuddin are alleged masterminds of the 26/11 terror attack on Mumbai in 2008 that left over 160 people dead and scores injured. JuD was labelled as a "foreign terrorist organisation" by the U.S. in June 2014, as it was a seen as a front for another banned terror outft, the Lashkar-e-Tayyaba.
In addition to his government condemning the killing of Wani, Pakistan Prime Minister Nawaz Sharif spoke out against the use of "excessive force" on protestors in the Kashmir Valley.
"It is deplorable that excessive and unlawful force was used against the civilians who were protesting against the killing of Burhan Wani," The Nation quoted him as saying in a statement.