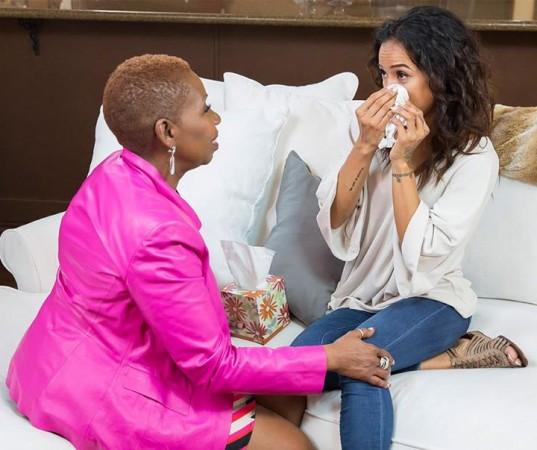 Karrueche Tran got all emotional and cried when she saw Chris Brown's baby girl, Royalty. After seeing the baby, the model/actress also confessed to the "Loyal" singer's mother, Joyce Hopkins that she always wanted to have a baby with Chris.
Back in March, when Karrueche got to know that Brown had a baby with Nia Guzman, she called it off via Twitter saying: "Best of luck to Chris and his family. No baby drama for me." But after seeing Royalty, Tran had an emotional reaction.
Obviously, the model never expected that she would ever meet the baby, but thanks to Joyce, who decided to introduce Tran to the baby when the rapper was not around.
According to Hollywood Life, the model-actress who still maintains a very good relationship with Joyce, caught up with her on the phone and during the conversation, asked about baby Royalty.
"Karrueche started asking questions about [Royalty]. She asked Joyce what she's like. Kae's really only seen pictures of her online and asked Joyce if she looked more like Chris or her mother," a source told.
"Joyce told her she looked like Chris and Karrueche said, 'Well, I'm sure she's cute as a button."
And this is when Joyce decided to introduce Tran to Royalty. "At that moment, she told Karrueche she'd call her right back and she did, but for this time, she FaceTimed her. Kae had answered it and it was Joyce and Royalty on the other end," the source added.
After seeing Royalty's cute face, Tran broke down and confided in Hopkins. "She started crying and told Joyce that she had always wanted a baby by Chris. She wanted him to experience being a father for the first time with her," the source revealed.
Joyce who has always treated Tran as her own child consoled her. "Joyce loves Karrueche a lot, like she's her own child and she wants her to be happy in life, and with Chris. She asked Tran to stop crying and talk to Chris," the source said.
Is Joyce pushing Karrueche Tran to get back together with son Chris Brown?