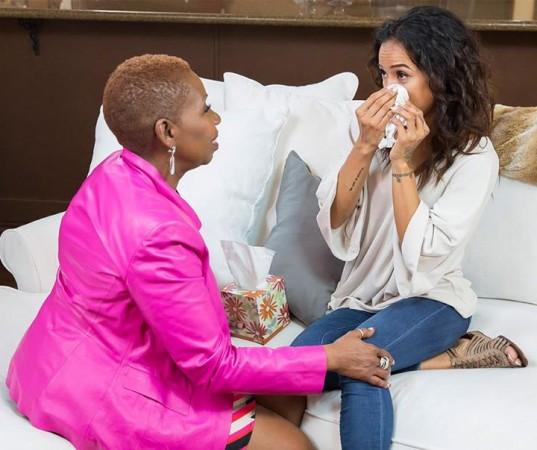 Last month when Karrueche Tran opened up about her break-up with Chris Brown in an interview with Iyanla Vanzant, she sounded quite convinced about not taking back Chris. But now, the off-again-on-again couple is reportedly together again. So what made Tran forgive and take back Chris?
Tran had dumped the "Loyal" singer via Twitter after Nia Guzman revealed that he has an alleged 9-month-old daughter. She wrote on Twitter: "Best of luck to Chris and his family. No baby drama for me."
And she also confessed to Vanzant saying: "Right now, I'm saying no...There's no making up right now."
But it looks like the model has had a change of heart. She has been posting many things on her Instagram that point towards the couple's reconciliation.
On 30 April, Tran posted a photo of one of her dogs (which Chris gave her for Christmas while they were dating), and another dog which looks like one Chris owns on her Instagram. In fact, the hand seen in the picture looked like Chris' hand.
And now, she has posted a picture of an uplifting quote on her Instagram. Though the model attributed this as a line written by actress Mirtha Michelle, fans thought that the cryptic message was about Chris.
"There is beauty in tragedy. For tragedy has the power to motivate the human mind. It can turn weakness into strengths and become greatness. Why would you focus on the storm, when you can focus on the rainbow?" the quote read.
But comments on this post read: "She needs to distance herself from him and association to him. He just makes her look like a fool whenever she takes him back and something like this happens."
Another person wrote: "So you're back with CB ... Why am I not surprised."
Latest reports strongly support the theory that Chris and Tran could be back together and that they are taking things slow after the baby drama.
"Chris and Karrueche have been talking and texting again. He has worn her down and now her icy heart is melting. She's back to wearing his rings again," reported Hollywood Life.
"Their texting is definitely hot and steamy. He's been telling her all the things he wants to do to her and it really turns her on," the sources added.
It's no secret that the "International Love" singer has been begging Tran for her forgiveness and pleading her to take him back. And now, seems like things have worked in his favour as the model has finally given in.
"She tried so hard to put him out of her life and move on but, in the end, she just loves him too much to say goodbye," the source told.
So what do you think — are Chris Brown and Karrueche Tran really back together?