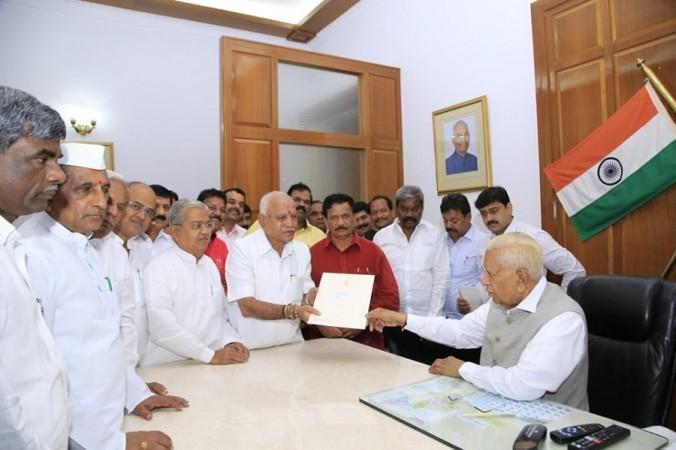 Karnataka Governor Vajubhai Vala on Friday sworn in BJP state president BS Yediyurappa as Chief Minister at the Raj Bhavan in Bengaluru. Yediyurappa took the oath of office and secrecy at around 6.30 pm in a simple ceremony at the Glass House.
State Chief Secretary TM Vijay Bhaskar conducted the 10-minute ceremony on the dais, with the rendering of the national anthem in the beginning and end of the event.
Draped in white safari suit, with a folded green shawl over his shoulders, the 75-year-old Yediyurappa took oath in Kannada in the name of God in the presence of dignitaries, special invitees and top officials of the state, including police officers.
Hundreds of party's leaders, legislators, cadres and Yediyurappa's family members were also present at the event amid tight security. This is the fourth time Yediyurappa, who hails from Shivamogga district, has become the CM.
Among the prominent party leaders present on the occasion were BJP's state in-charge Muralidhar Rao, former BJP CM Jagadish Shettar, former Assembly speaker KG Bopaiah, former ministers Basavaraj Bommai and BR Sriramuly and G Karunakar Reddy.
Live Updates
2019-07-2619:27 (IST)
Sriramulu pitches himself for dy CMs post
BJP MLA Sriramulu pitches himself for deputy chief ministers post.
2019-07-2619:07 (IST)
Yediyurappa to chair cabinet meeting.
The newly sworn-in chief minister of Karnataka BS Yediyurappa will chair cabinet meeting shortly at Vidhana Soudha.
He will talk to the media after the cabinet meeting.
2019-07-2619:02 (IST)
Will BJP rule both state and central government after decades?
As BS Yediyurappa has been sworn-in as the 32nd chief minister of Karnataka many people still doubt over the state's future. After decades the Bharatiya Janata Party (BJP) may finally have a chance to rule at both state and central level.
However, it is still doubtful whether the BJP chief will complete his tenure as the saffron party still lacks the majority to form the government.
2019-07-2618:33 (IST)
Yediyurappa sworn-in as the chief minister of Karnataka
BS Yediyurappa sworn-in as the 23rd chief minister of Karnataka. The oath was administered by the Governor Vajubhai Vala.
2019-07-2618:05 (IST)
Yediyurappa directs chief secretary to stay all coalition orders
Yediyurappa directs the state chief secretary T M Vijay Bhaskar to stay all orders passed by the coalition government in July. The orders have been given by the BJP chief even before he took his oath as the chief minister.
2019-07-2617:59 (IST)
Yediyurappa arrives at Raj Bhavan
The BJP chief BS Yediyurappa has arrived at Raj Bhavan to take oath as the state chief minister. Security has been tightened at the Raj Bhavan ahead of the swearing-in ceremony. the security arrangements are being overseen by Additional Commissioner Umesh Kumar.
2019-07-2617:14 (IST)
Yediyurappa leaves for BJP office to address party workers
2019-07-2615:29 (IST)
Janata Dal Secular calls BJP 'Horse Trading Party'
2019-07-2615:12 (IST)
Rebel MLAs likely to return to Bengaluru after Yediyurappa proves majority
According to News9, rebel Congress and JD(S) MLAs are likely to return to Bengaluru after BJP leader BS Yediyurappa proves majority in the Karnataka Assembly. The to-be CM will reportedly hold floor test on Monday.
2019-07-2614:28 (IST)
To-be Karnataka CM officially changes spelling of his name to Yediyurappa
To-be Karnataka CM BS Yeddyurappa has officially changed the spelling of his name to Yediyurappa, as it was spelt till 2007.
2019-07-2613:09 (IST)
Full Cabinet not be sworn in today
The BJP has confirmed that the full Cabinet will mostly not be sworn in today. According to reports, only BS Yeddyurappa will be taking oath today at 6 pm along with a small team.
2019-07-2612:47 (IST)
Will welcome rebel MLAs: Karnataka BJP MP
"Today BS Yeddyurappa ji has staked claim to form Govt, party high command has supported him. Numbers in assembly are not a problem, also the rebel MLAs are firm on their stand and if they want to join BJP, we will welcome them," said Karnataka BJP MP Shobha Karandlaje.
2019-07-2612:12 (IST)
As instructed by Amit Shah, J P Nadda, I've met Governor to stake claim to form govt: Yeddyurappa
As instructed by our National President Shri @AmitShah ji and working president of BJP Shri @JPNadda ji, I have met his Excellency Governor of Karnataka to stake claim to form government.

I will take oath as CM of Karnataka today at 6 pm.

— B.S. Yeddyurappa (@BSYBJP) July 26, 2019
2019-07-2612:09 (IST)
BJP has no belief in democratic values: Siddaramaiah
.@BJP4Karnataka has the strength of 105 which is way less than the half way mark.

In no way BJP can form the govt if constitution is followed. This only proves that BJP has no belief in the democratic values.@INCKarnataka

— Siddaramaiah (@siddaramaiah) July 26, 2019
Karnataka assembly has become an experimental lab for @BJP4Karnataka & BJP backed governor to try unconstitutional ways to form govt.

In what article of the constitution is the governor allowed to permit the party to form govt that doesn't have majority?

It is shame!!

— Siddaramaiah (@siddaramaiah) July 26, 2019
2019-07-2612:06 (IST)
Names of cabinet members yet to discuss with national president: Yeddyurappa
"Who all are to be inducted (in the ministry), I will discuss with our national president and inform," said Yeddyurappa.
He also said that he will send a letter of invitation to outgoing Chief Minister H D Kumaraswamy and Congress Legislature Party leader Siddaramaiah for the swearing-in ceremony
2019-07-2611:52 (IST)
BJP spent Rs 1000 crore to buy MLAs: Congress
The state arm of Congress, in a tweet on July 25, accused the Bharatiya Janata Party of spending Rs 1000 crore to buy legislators across the country. "The biggest scam in the country was MLAs' purchase," the tweet said.
2019-07-2611:44 (IST)
15 rebel MLAs will be present at oath taking ceremony: DK Shivakumar
2019-07-2611:31 (IST)
History is all set to repeat again: Congress
Corruption Icon and Former Jail Bird Shri @BSYBJP has used his excellent Horse Trading skills to subvert democracy and come to power.

People of Karnataka remember his disastrous tenure as CM between 2008-2011, which ended with BSY in Jail.

History is all set to repeat again. https://t.co/0M28Z49PQM

— Karnataka Congress (@INCKarnataka) July 26, 2019
2019-07-2611:25 (IST)
Need few days to decide on resignations: Speaker
It was being speculated that the process of government formation may be prolonged due to the Speaker needing more time to study the resignation of the remaining 14 rebel MLAs. He said he would decide on the rest of the cases on an individual basis "in a couple of days".
He said that the resignations were "100 per cent not voluntary, not genuine... the whole world knows".
2019-07-2611:14 (IST)
A week's time to prove majority
The Karnataka Governor has given a week's time to BS Yeddyurappa to prove majority in the Assembly.
2019-07-2611:03 (IST)
Majority mark in the Assembly is 112
The disqualification of three rebel MLAs on Thursday brought down the strength of the Assembly to 221. The majority mark is 112.
The BJP has the support of 105 members. The party was initially disinclined towards forming a minority government.
President's rule in Karnataka was being seen as a possibility in this scenario.
2019-07-2610:48 (IST)
Got a call from Delhi today:
"Got a phone call from Delhi and a final nod from BJP chief Amit Shah with the go-ahead," said BJP leaders, outside Raj Bhavan.
2019-07-2610:36 (IST)
BJP leaders met Amit Shah on Thursday
A Karnataka BJP delegation, headed by Jagadish Shettar, met party president Amit Shah on Thursday, July 25, to discuss the government formation.
2019-07-2610:34 (IST)
Yeddyurappa's oath-taking ceremony at 6 pm today
Yeddyurappa will be sworn in as the Chief Minister of Karnataka at 6 pm on Friday.
2019-07-2610:23 (IST)
Yeddyurappa arrives at Raj Bhavan