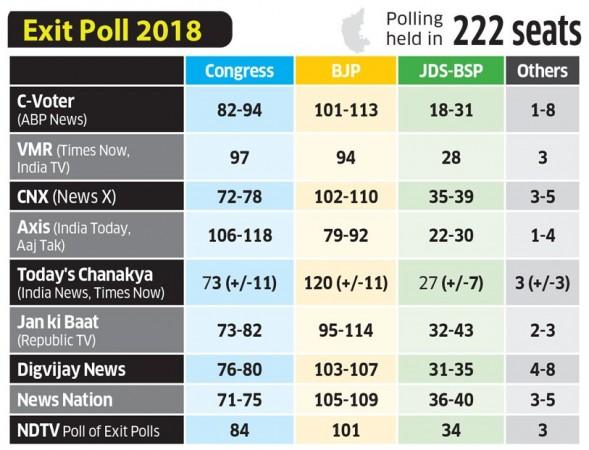 With the BJP nearing to prove its clear majority in Karnataka assembly elections 2018, Today's Chanakya, a leading public opinion polling company, is proving that its exits polls are fair and unbiased.
The Karnataka assembly elections have created a lot of curiosity, with the people across the country watching every move in the state. The BJP made all the efforts to set its foot in the south Indian states, while Congress is struggling to save its only strong foothold in the country. The political pandits have been busy calculating about the next government in the state.
Around 10 opinion poll companies had conducted exit poll survey in the state and almost all of them predicted that the state would have hung assembly and the JDS would play a crucial role in the next government. But only Today's Chanakya claimed that BJP would get a clear majority.
Soon after the voting got over on May 12, Today's Chanakya tweeted, "#TCExitPoll Karnataka Elections 2018 Seat Projection BJP 120 ± 11 (Plus / Minus 11) Seats Congress 73 ± 11 (Plus / Minus 11) Seats JDS+ 26 ± 7 (Plus / Minus 7) Seats Others 3 ± 3 (Plus / Minus 3) Seats."
Currently, the counting is in progress across the state. If we are to go by the latest leads, the BJP is set to win a total of nearly 115 seats, while the Congress, JDS and others will bag 67, 37 and 3 seats, respectively. With this, Today's Chanakya's exit poll results are proving to be the exact prediction.
Several experts, including Rajdeep Sardesai, had mocked Today's Chanakya's exit poll results. Soon after seeing the early results, the India Today anchor took to Twitter and wrote, "Almost ready to wipe the egg yolk off my face.. Chanakya C Voter right, Axis wrong.. BJP sweeping to a 21st state win! #ResultOnKarnataka."
Founded in 1995, Today's Chanakya has been delivering pre and post opinion poll results and except in the last Bihar Assembly election, all its opinion poll results have proved to be right. With its prediction for Karnataka, the company has strengthened it belief among political experts.
Today's Chanakya says, "We have given out some fantastic analysis, which are not only remarkable but also undisputed. We have made unbiased projections having estimated the outcomes of every state and national election since our company was founded giving victory to Congress, BJP or any other regional party in the respective state / situation with a clear cut indication of our unbiased projection."