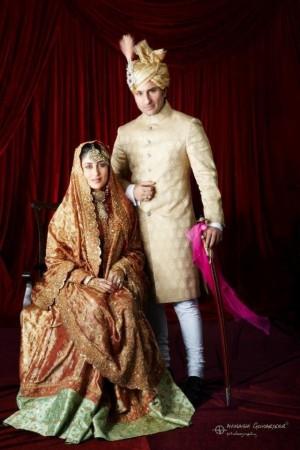 Kareena Kapoor Khan has been on the cover page of several leading magazines in India, but her latest cover photo might come as a shock even to her.
Vishva Hindu Parishad's (VHP) young women's wing Durga Vahini has used a morphed photo of the "Jab We Met" actress for their magazine "Himalaya Dahvani".
The women's wing of the organisation reportedly launched a campaign against "love jihad" by using the morphed photo of the actress.
The morphed photo, which has gone viral on social media, shows half of Kareena's face sporting a sindoor and a bindi, and the other half covered with a naqab. Along with the photo, there is a caption "conversion of nationality through religious conversion".
The controversial "love jihad" campaign seeks to reconvert Hindu women who married Muslim men.
Vahini's north India regional coordinator Rajni Thukral explained why they carried a photo of Kareena on their cover page. Kareena got married to Bollywood actor Saif Ali Khan in 2012. The actress had claimed that she would not embrace Islam, but added Khan to her surname.
But according to Thakural, she has been leading a dual life.
"The youth is influenced and attracted by people like Kareena, who at the time of her marriage had claimed that she would not embrace Islam and will not drop her surname, but only add 'Khan." However, she is seen practising various Muslim rituals and she is leading a dual life. She should completely embrace Islam, this dual behaviour is affecting the youth she is inspiring," Thukral said in an interview with Hindi publication Amar Ujala, according to The Times of India.
Meanwhile, a member of VHP has said that Kareena can sue them for using her photo is she has objections.
"If actress Kareena Kapoor has a problem with this, the doors of Court are always open for her," Prakash Sharma of the VHP, which is affiliated to the ruling BJP, told ANI.