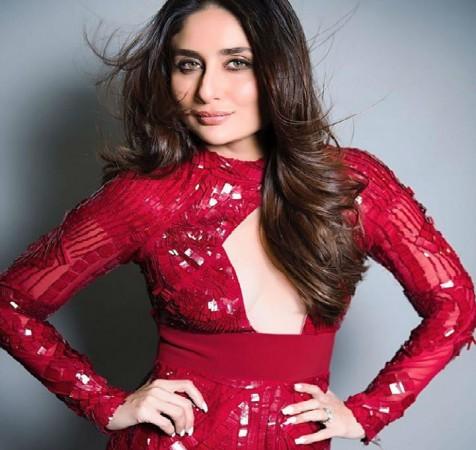 Kareena Kapoor Khan has apparently landed in soup over her comment on feminism. Her words did not go down well with some of the womenfolk on the social media.
During the music launch of Veere Di Wedding, Bebo was asked by a reporter what her idea about feminism is and if she is one.
"Well, I believe in equality. I wouldn't say I am a feminist. I would say I am a woman, and above all, I am a human being. I am as proud to be known as Saif Ali Khan's wife, as I am to be Kareena Kapoor. That's just the way I am," the 37-year-old diva said.
This statement from Kareena received much flak from women, who claim to be feminists.
Apparently, Kareena saying she believes in equality and at the same time denying to be a feminist, did not go down well with many. Many women on Twitter ridiculed her idea of feminism and her statement as a whole.
However, there are some who have also been supporting Kareena and counter-slamming the trolls, saying that the "feminists" who claim to believe in "right to express opinion regardless of it being right or wrong", are now trolling Kareena for sharing her thoughts.
Check some of the tweets being made in regard to Kareena's statement on feminism:
"I believe in equality but I'm not a feminist" says Kareena Kapoor. The number of errors in this one sentence is mindblowing. I'm gonna go nap

— ▲ Shivani ▲ (@scratchguarded) May 23, 2018
Yeah ikr? They probably need to do some reading up about the origin of feminist movement -but then,Kareena isn't exactly known for her intellectual prowess. An irony she was lamenting the fact that there's no maternity insurance for actresses, hence couldn't shoot when pregnant

— megzie (@megzie__) May 23, 2018
It's 2018 and we have a Kareena Kapoor say, 'I believe in equality of genders, but I am not a feminist'. How long before women in positions of influence educate themselves? Is that really too much to ask!

— Shruthi Suresh (@veryshrued) May 23, 2018
Kareena at VDW music launch - " I wouldn't say I'm a feminist but I believe in equality " and someone shouted woohoo ??

— Nikita (@nikita1372) May 23, 2018
How dare kareena say she isnt a feminist. Die die kareena kapoor khan.

— Riz (@JawanSnow) May 23, 2018
Being a #feminist means believing in and fighting for EQUALITY. The goal of #feminism is "to define, establish, and achieve political, economic, personal, and social equality of sexes." (Wiki) Kareena Kapoor definitely needs to have a better understanding of the term. https://t.co/L8zyWqvhoJ

— ruchi kokcha (@ruchikokcha) May 23, 2018
All the pseudo feminists have their eyes on stalks with Kareena's statement- are clamoring to change their stand into the now rendered fashionable one by Saif's missus who's a Khan and she is not a feminist! "I'm Not a Feminist, I Believe in Equality": https://t.co/7uMxwH9DCC

— Griha Atul (@grihaatul) May 23, 2018
Feminist : My life my way. We have rights to express ourselves regardless of whether it is right or wrong.

Kareena : I believe in equality.

Feminist : ?

Like how .. ? How do you guys maintain these double standards ?? pic.twitter.com/VGf9mR0RDZ

— Fidus Achates (@Sohni_Bose) May 23, 2018
Earlier, Sonam Kapoor, who however claims to be "true feminist", had found herself in rough patch for changing her name after marriage. Sonam had added the surname "Ahuja" to her name after tying the knot with Anand Ahuja. Many targeted her for calling herself a feminist and at the same time following the "patriarchal" concept.
Nonetheless, Sonam had defended herself saying that it was her choice to add her husband's surname to her name as none had pressurized to do so, and to have a right to choice is also a part of feminism. She had further said that her husband also added "S" to his name.