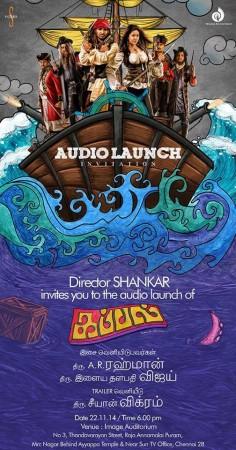 Tamil movie "Kappal" has opened to mixed response from audience and critics. The film directed by Karthik G Krish stars Vaibhav, Sonam Bajwa, Karunakaran, VTV Ganesh, Arjunan, Venkat Sundar and Karthik Priyadasrhan.
Most of the critics have opined that the movie is a laughter riot that deals with friendship between five friends who promise not to part ways ever in their life. They also promise each other that they will never get married as they think a girl might spoil their relationship. The promise they make during childhood does seem to hold on till adulthood until one of them, Vasu (Vaibhav) fall in love. The rest of the movie talks about how he shuttles between his friends and his girlfriend.
Most of the critics thought said the movie has some good performances but that the predictability of the movie is one of its major drawbacks.
Here are the reviews of "Kappal" by various critics:
"A serious story that is almost baseless, the film could have flopped utterly. But what patches the potholes is sense of humour. The film is two and half hours of comedy at length. Vaibhav plays Vasu and Sonam plays his love interest Deepika. Though most of the story revolves around these two alone, friction and acceleration is given by the characters played by Vasu's friends (by Karunakaran, Arjunan, Venkat and Karthik) and VTV Ganesh. Everyone not only acts as dealt, but also does their best to give the perfect finish to the comedy conceived. Thanks to Karthik, we have a riotously comic flick to chill out on." – Indiaglitz
"Karthik's narrative will make you forget where you are and laugh out very loudly till the end. The whole film is very relatable. The humour is set in simple things, things we come across in our lives almost every day. So this makes sure you laugh a little in every scene. Vaibhav is good in his character. He performed well. Sonam looks gorgeous and given her best. The characters played by Vasu's friends (by Karunakaran, Arjunan, Venkat and Karthik) and VTV Ganesh given their best." – Iluvcinema
"The movie is packed with comedy sequences and there is no demand for Comedy. It is complete entertaining and continuous laughter movie. The director shows the extreme level of crazy friendship. It is not "Wow.." movie. But, simply superb.. Nice screenplay and music too. The debutant Actress Sonam Bajwa has played opposite to Actor Vaibhav and she was completed her portion as perfect. Vaibhav is giving asusual performance like Goa and Saroja. But, he is matured in dance. Karunakaran and Arjunan will be taking care of the rest of the screen space. VTV Ganesh is playing an important role in this movie."- Mediatimez.com