Comedian Kapil Sharma has once again rocked Twitter. This time he hurled abuses at an entertainment portal in support of Salman Khan after the actor was convicted of poaching and sentenced to five years in prison Thursday.
A Jodhpur sessions court pronounced Salman guilty of killing two blackbucks in the 20-year-old case and he was sent to jail following the verdict, pending a decision on his bail application.
In a series of tweets, Kapil Sharma first extended his support to Salman Khan and said: "Maine bohot saare aise maharaja type log dekhe hain jo bade bakhr se bataate hain ki hamne sher ka shikaar kiya.. main mila hun unse. salman bohot logon ki madad karta hai.. Achcha aadmi hai. I dont know if he did it or not .. but see his best sides.. ghatiya system .. let me do good work .."
Loose translation: "I have seen a lot of people who say with pride that they have hunted tigers. I have met them. Salman helps a lot of people. He is a good man. I don't know if he did it or not, but see his best sides. Bad system. Let me do good work."
Later, the comedian started lambasting an entertainment portal for allegedly spreading fake news and writing negative things about him. He also called the Indian judicial system cheap and rotten, adding that if he were the prime minister of India, he would hang each and every one of those who spread false news.
However, Kapil soon deleted these tweets after receiving flak for using abusive language on the social networking site. Twitter users managed to take screenshots of his tweets, and these are now going viral on the internet.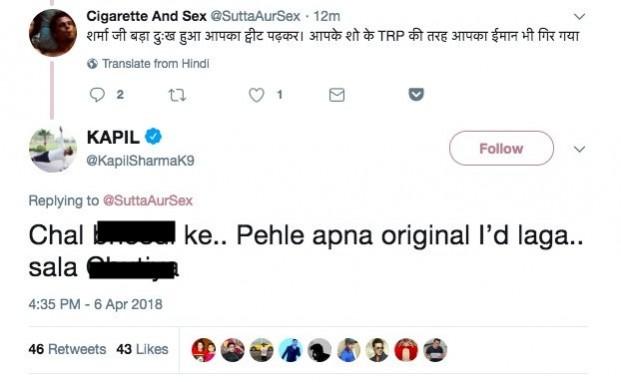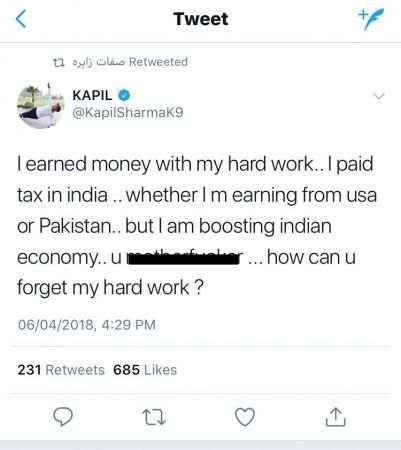 The Twitter users soon started trolling Kapil for posting such abuse, which they assumed he had done in an inebriated state. Some even suggested that Kapil must have tweeted after getting high on marijuana.
Check out some of the reactions here:
Kapil Sharma is 100% drug addict, he is frustrated TBH. Stardom handle nahi kar paaya banda, will be finished soon.

— Rebellion (@MeRebellion_) April 6, 2018
Amid reports of Family Time With Kapil Sharma going off the air, we wonder how Kapil Sharma will manage to continue tickling the funny bone of the audience with such an attitude.