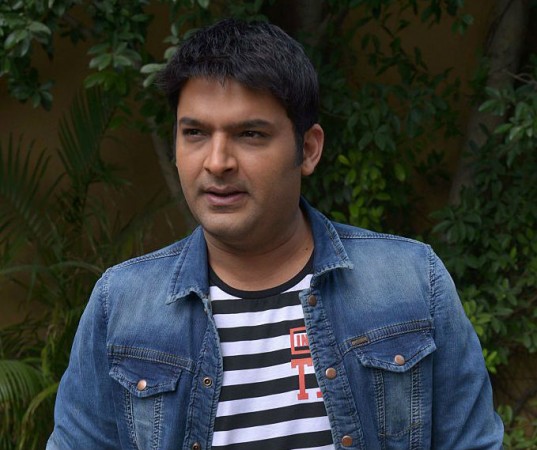 Popular Indian comedian and Bollywood actor Kapil Sharma is facing flak for his involvement in a promotional event of Pakistan Super League (PSL) franchise Peshawar Zalmi in Dubai on Wednesday, February 21.
The 36-year-old interacted with the likes of West Indies all-rounder and Zalmi captain Darren Sammy and Pakistan cricketers Kamran Akmal and Mohammad Hafeez during a light-hearted session, a day before the opening ceremony of the third season of PSL, which will be played between February 22 and March 25.
Sharma even exchanged banters with members of the franchise, who will be defending their title in the ongoing season. The celebrated comedian, known for his record-breaking show -- Comedy Nights With Kapil -- even passed a light-hearted comment on Akmal and his brothers and international cricketers, Umar and Adnan.
"You are three brothers; [with] one cousin playing top-level cricket -- and you all have kids -- it means Pakistan doesn't need any other family in cricket," Sharma told Kamran, as quoted by Geo.tv.
Zalmi's chairman Javed Afridi also called Sharma "the best comedian" in the region and said his performance helped the players relax ahead of the commencement of the league. However, the defending champions lost the season opener to newbies Multan Sultans by seven wickets on Thursday, February 22.
Sharma's involvement with the PSL franchise though has not gone down well with right-wing regional political parties Shiv Sena and Maharashtra Navnirman Sena (MNS). The former even acused the comedian of making a "mockery of India's honour".
"Kapil Sharma is making a mockery of India's honour. He just wants to earn money and doesn't care about the country. We strongly condemn Sharma for performing during PSL," Sena said, as quoted by India.com.
Meanwhile, MNS spokeperson Amay Khopkar even conceded he is no more a fan of Sharma, who is reportedly returning to television in March 2018.
""He (Kapil) should be ashamed of himself. Pakistani cricketers are banned in IPL but he went there to perform. I used to be his fan but after this episode won't watch any of his show and also urge people to do the same," Khopkar said, according to the report.
Also, Indian fans on social media were upset with Sharma's performance in Dubai as they pointed out the escalating cross-border tension between the two Asian neighbours. Notably, Bollywood has been apprehensive about casting Pakistani actors and artists in Indian films as various right-wing groups have vehemently protested such moves in the past.
IBTimes India has compiled a list of reactions to Sharm's performance in Dubai. Check them out here.
Not everyone was offended by Sharma's stint with the PSL franchise!
India and Pakistan have not played bilateral cricket since a three-match ODI series in 2013 but have been meeting in International Cricket Council (ICC) tournaments. Also, Pakistan players have not been part of Indian Premier League (IPL) since 2009.