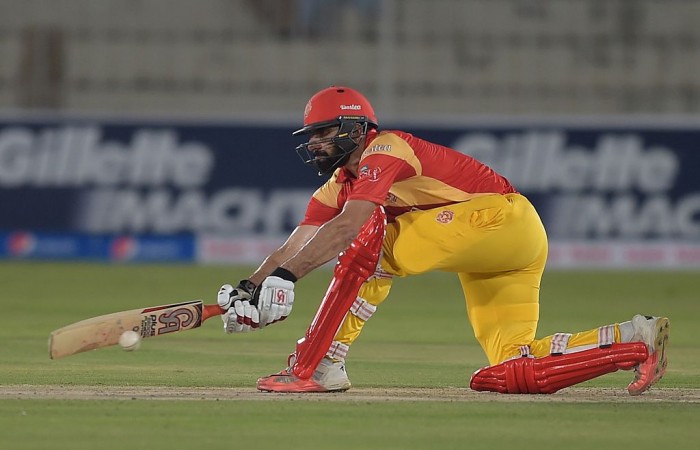 Defending champions Peshawar Zalmi and newbies Multan Sultans will meet at the Dubai International Cricket Stadium, Dubai, on Thursday (February 22), kickstarting the third season of Pakistan Super League (PSL).
A total of 34 matches, including the ones in the knockout, will be played over 32 days and the final of the annual tournament will be held at the National Stadium of Karachi. Notably, last year's final was played in Lahore, which proved to be a big step in Pakistan's efforts to bring back international cricket to the country.
With the addition of the Sultans, PSL will have six teams for the first time in its three-year history. The upcoming edition will be played at four venues — Dubai International Cricket Stadium, Sharjah Cricket Stadium, Gaddafi Stadium (Lahore) and National Stadium (Karachi).
Teams
| | | |
| --- | --- | --- |
| Team | Captain | Coach |
| Islamabad United | Misbah-ul-Haq | Dean Jones |
| Peshawar Zalmi | Darren Sammy | Mohammad Akram |
| Quetta Gladiators | Sarfraz Ahmed | Moin Khan |
| Karachi Kings | Imad Wasim | Mickey Arthur |
| Lahore Qalandars | Brendon McCullum | Aqib Javed |
| Multan Sultans | Shoaib Malik | Tom Moody |
The teams underwent quite a lot of changes ahead of the third edition. Five franchises were allowed to retain nine players from the previous edition while the Sultans were allowed to choose nine members from the list of players released by the other teams.
Pakistan all-rounder Shoaib Malik was announced the captain of the Sultans while former Australian cricketer Tom Moody was roped in as the coach of the team.
The teams assembled their squads from a list of 501 players who made themselves available for selection at the PSL draft, held at the National Cricket Academy on November 12.
Among the notable changes was Pakistan star Shahid Afridi's move to Karachi Kings. The former Pakistan all-rounder ended his two-year association with Peshawar Zalmi. He has been appointed the president of the Imad Wasim-led franchise.
Live streaming information and TV coverage
Worldwide live stream: cricketgateway.com
India: TV: DSport; Live stream: DSport on Jio TV, Airtel TV; cricketgateway.com
Pakistan: PTV Sports
UK: Sky Sports Channel 792 (Prime TV)
US: Willow TV
Full schedule
| | | | |
| --- | --- | --- | --- |
| Match | Time | Date | Venue |
| Peshawar Zalmi vs Multan Sultans | Thursday, February 22 | 5 pm GMT, 9 pm local, 10:30 pm IST | Dubai |
| Karachi Kings vs Quetta Gladiators | Friday, February 23 | 11:30 am GMT, 3:30 pm local, 5 pm IST | Dubai |
| Multan Sultans vs Lahore Qalandars | Friday, February 23 | 4 pm GMT, 8 pm local, 9:30 pm IST | Dubai |
| Islamabad United vs Peshawar Zalmi | Saturday, February 24 | 11:30 am GMT, 3:30 pm local, 5 pm IST | Dubai |
| Quetta Gladiators vs Lahore Qalandars | Saturday, February 24 | 4 pm GMT, 8 pm local, 9:30 pm IST | Dubai |
| Multan Sultans vs Islamabad United | Sunday, February 25 | 11:30 am GMT, 3:30 pm local, 5 pm IST | Dubai |
| Karachi Kings vs Peshawar Zalmi | Sunday, February 25 | 4 pm GMT, 8 pm local, 9:30 pm IST | Dubai |
| Karachi Kings vs Lahore Qalandars | Monday, February 26 | 4 pm GMT, 8 pm local, 9:30 pm IST | Dubai |
| Islamabad United vs Quetta Gladiators | Wednesday, February 28 | 4 pm GMT, 8 pm local, 9:30 pm IST | Sharjah |
| Quetta Gladiators vs Peshawar Zalmi | Thursday, March 1 | 4 pm GMT, 8 pm local, 9:30 pm IST | Sharjah |
| Multan Sultans vs Karachi Kings | Friday, March 2 | 11:30 am GMT, 3:30 pm local, 5 pm IST | Sharjah |
| Lahore Qalandars vs Islamabad United | Friday, March 2 | 4 pm GMT, 8 pm local, 9:30 pm IST | Sharjah |
| Multan Sultans vs Quetta Gladiators | Saturday, March 3 | 11:30 am GMT, 3:30 pm local, 5 pm IST | Sharjah |
| Peshawar Zalmi vs Lahore Qalandars | Saturday, March 3 | 4 pm GMT, 8 pm local, 9:30 pm IST | Sharjah |
| Islamabad United vs Karachi Kings | Sunday, March 4 | 4 pm GMT, 8 pm local, 9:30 pm IST | Sharjah |
| Peshawar Zalmi vs Multan Sultans | Tuesday, March 6 | 4 pm GMT, 8 pm local, 9:30 pm IST | Dubai |
| Multan Sultans vs Quetta Gladiators | Wednesday, March 7 | 4 pm GMT, 8 pm local, 9:30 pm IST | Dubai |
| Islamabad United vs Lahore Qalandars | Thursday, March 8 | 11:30 am GMT, 3:30 pm local, 5 pm IST | Dubai |
| Karachi Kings vs Quetta Gladiators | Thursday, March 8 | 4 pm GMT, 8 pm local, 9:30 pm IST | Dubai |
| Multan Sultans vs Lahore Qalandars | Friday, March 9 | 11:30 am GMT, 3:30 pm local, 5 pm IST | Dubai |
| Peshawar Zalmi vs Islamabad United | Friday, March 9 | 4 pm GMT, 8 pm local, 9:30 pm IST | Dubai |
| Multan Sultans vs Karachi Kings | Saturday, March 10 | 11:30 am GMT, 3:30 pm local, 5 pm IST | Dubai |
| Peshawar Zalmi vs Quetta Gladiators | Saturday, March 10 | 4 pm GMT, 8 pm local, 9:30 pm IST | Dubai |
| Karachi Kings vs Lahore Qalandars | Sunday, March 11 | 4 pm GMT, 8 pm local, 9:30 pm IST | Dubai |
| Multan Sultans vs Islamabad United | Tuesday, March 13 | 4 pm GMT, 8 pm local, 9:30 pm IST | Sharjah |
| Quetta Gladiators vs Lahore Qalandars | Wednesday, March 14 | 4 pm GMT, 8 pm local, 9:30 pm IST | Sharjah |
| Peshawar Zalmi vs Karachi Kings | Thursday, March 15 | 11:30 am GMT, 3:30 pm local, 5 pm IST | Sharjah |
| Quetta Gladiators vs Islamabad United | Thursday, March 15 | 4 pm GMT, 8 pm local, 9:30 pm IST | Sharjah |
| Peshawar Zalmi vs Lahore Qalandars | Friday, March 16 | 11:30 am GMT, 3:30 pm local, 5 pm IST | Sharjah |
| Islamabad United vs Karachi Kings | Friday, March 16 | 4 pm GMT, 8 pm local, 9:30 pm IST | Sharjah |
| Qualifier | Sunday, March 18 | 4 pm GMT, 8 pm local, 9:30 pm IST | Dubai |
| Eliminator 1 | Tuesday, March 20 | TBC | Lahore |
| Eliminator 2 | Wednesday, March 21 | TBC | Lahore |
| Final | Sunday, March 25 | TBC | Karachi |