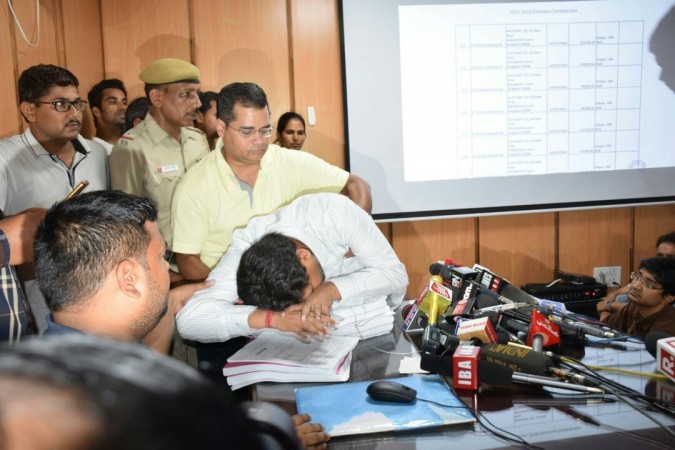 Kapil Mishra, who was sacked from the Aam Aadmi Party (AAP) a few days ago, addressed a press conference on Sunday accusing the party of furnishing the Election Commission with false information about its accounts and for "cheating party workers and public by converting black money into white."
Mishra, who has been on a hunger strike since five days, also accused Delhi Chief Minister Arvind Kejriwal of using shell companies to park crores of unaccounted money. He also alleged that a massive scam was underway in the mohalla clinics run by the Delhi government in the national capital.
"Aam Aadmi Party accepted Rs. 2 crore in donations from shell companies, which was detected by Income Tax department," Mishra alleged adding that he had documents to support each of his claims.
"Arvind Kejriwal, have some shame. If you don't resign by today evening, I will drag you from your office to Tihar Jail. I'm Kapil Mishra," he warned the Delhi Chief Minister.
The suspended minister showed some slides which allegedly displayed discrepancies between the funds received by the party and the funds the AAP declared before the EC in the past three years.
Mishra was suspended from the primary membership of the Aam Aadmi Party (AAP) on May 8 after he accused Delhi Chief Minister Arvind Kejriwal of taking a bribe of Rs. 2 crore from Delhi Health Minister Satyendra Jain. Mishra had on May 7 also alleged that Jain has settled land deals worth Rs. 50 crore for "Arvind Kejriwal's relatives." When he asked the Delhi CM about the money he took from Jain, Kejriwal said a lot of things "happen" in politics that "cannot be explained," he further alleged.
At the press conference on Sunday (May 14), Mishra claimed he has the documents to expose Kejriwal. The former water minister of Delhi accused the CM of "converting black money into white" using Axis Bank. Mishra showed account details which allegedly showed that the AAP received funds to the tune of Rs. 45 crore in 2013-14 but they declared only Rs. 20 crore in books.
Mishra also showed a slide which showed the party, after getting notice from the Income Tax Department, had revealed it received funds to the tune of Rs. 30 crore. However, the amount declared was still much lesser than the Rs. 45 crore it actually received.
"These fake companies are registered in the name of AAP MLA from Moti Nagar, Shivcharan Goyal. These companies have given Rs. 2 crore to Kejriwal at 12 am. The fund received from these companies were sent to same branch of Axis Bank where there were allegations of converting black money into white at the time of demonetisation," Mishra said.
He added that he would "file a case against Arvind Kejriwal with the Central Bureau of Investigation (CBI) on Monday in connection with conversion of black money to white." The Anti-Corruption Bureau (ACB) will interrogate Mishra on May 17.
Mishra fainted as soon as the press conference got over and was then taken to hospital.