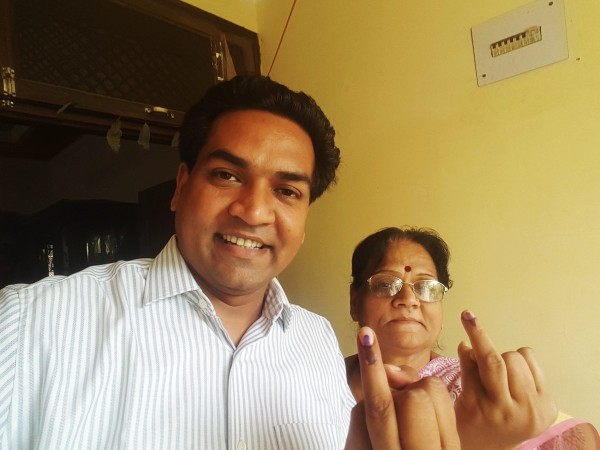 Kapil Mishra, who was suspended from the Aam Aadmi Party (AAP) on Monday, levelled new allegations against several party leaders on Tuesday accusing them of using "illegal money" to travel abroad. He has demanded that AAP leaders must "make public the details of their foreign trips." He has also threatened that he will sit on a hunger strike from Wednesday morning.
Mishra accused Delhi Health Minister Satyendra Jain, Ashish Khetan, Raghav Chaddha, Sanjay Singh and Durgesh Pathak of using unaccounted money to fund their trips abroad. "I demand them to make public the details of their foreign trips, or else I will sit on hunger strike," Mishra told reporters before going to the headquarters of the Central Bureau of Investigation (CBI) to file an FIR against the Rs 400 crore water tanker scam.
Mishra had made shocking allegations against Kejriwal on Sunday, May 7, accusing him of taking Rs. 2 crore from Jain. He also alleged that Jain has settled land deals worth Rs. 50 crore for "Arvind Kejriwal's relatives." When he asked the Delhi CM about the money he took from Jain, Kejriwal said a lot of things "happen" in politics that "cannot be explained," he further alleged. Mishra also went to the Anti-Corruption Bureau and the CBI to submit evidence to support his claims.
On Tuesday morning, Mishra tweeted an open letter to Kejriwal in which he sought his blessings before heading to the CBI headquarters to file an FIR against the Delhi CM and other AAP members. "Bless me... I am filing an FIR against you," Mishra said while reading out the letter in front of the media in Delhi.
Open Letter to Arvind Kejriwal Ji ... will he respond pic.twitter.com/QfqGP5Hc7D

— Kapil Mishra (@KapilMishraAAP) May 9, 2017
A couple of hours later, Kejriwal tweeted saying that a big conspiracy against the AAP will be exposed in the special session of the Delhi Assembly on Tuesday. "Today in assembly, Saurabh Bharaawaj will disclose the truth about a big conspiracy going on in the country...truth will prevail," Kejriwal wrote on Twitter.
देश में चल रहे एक बहुत बड़े षड्यंत्र का सच आज सदन में सौरभ भारद्वाज देश के सामने रखेंगे। उन्हें ज़रूर सुनियेगा। सत्यमेव जयते।

— Arvind Kejriwal (@ArvindKejriwal) May 9, 2017
Mishra, the former water minister of Delhi, also claimed that Kejriwal was trying to remove him from the Delhi Assembly. He challenged the Delhi CM to resign from his post and contest elections against him. "You are trying to remove me from assembly, I challenge you to contest the elections against me," Mishra said.
Mishra was on Monday suspended from the primary membership of the Aam Aadmi Party (AAP) over the allegations her levelled against Kejriwal and other members of the party. The suspension came after Mishra, at a press conference on Monday evening, dared the Political Affairs Committee (PAC) to sack him from the party.
"I will not leave the Aam Aadmi Party. AAP will have a Political Affairs Committee meeting tonight at 7 pm. I dare them to sack me from AAP. I have been given death threats by people who stay close to Kejriwal," Mishra had said on Monday.